April 25, 2016
Natural stone hardscapes can provide superior durability and a resistance to the elements which ensures property owners are less likely to be plagued with maintenance concerns in the future. In addition to providing an environmentally sustainable way to compliment a range of architectural styles, properly installed hardscapes that utilize high-quality natural stone require only minimal maintenance and may last for many decades. Ann Arbor MI homeowners would do well to consider natural stone when it comes to creating a driveway, walkway or other l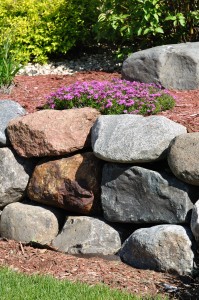 andscaping addition.
Natural Stone Hardscapes May Actually Become Better Over Time
Natural stone materials can provide a uniquely rustic, regional accent to a home or landscape that can actually become more attractive over time. Stone represents strength and durability, but even the hardest stones may begin to suffer from wind and water erosion over the years. Unlike cement and asphalt installations which begin to look shabby and unattractive after suffering even minimal wear, natural stone hardscapes begin to take on a weathered look over time, one that can add to their natural beauty and rustic appeal. Ann Arbor MI property owners who are interested in reducing the maintenance costs and effort needed to curate their property and landscape can find that natural stone materials have a lot to offer.
Natural Stone Offers a Number of Benefits
Patios, steps and driveways can be far more than just a functional addition to a landscaped environment. Hardscapes made of natural stone may be used to provide any number of benefits that may include:
Directing traffic or retaining slopes
Flood prevention and management by using porous stone to capture and filter rainwater on site
Adding a textural highlight to an outdoor environment
Stone provides the superior durability needed to construct more durable and lasting landscape additions. Unlike cement or asphalt, replacing individual stones that have suffered damage allows maintenance to be performed piecemeal rather than replacing the entire installation.
Natural Stone and Porous Handscapes
The porous nature of natural stone means that landscaping additions are less likely to create localized flooding or other runoff management issues. Asphalt, concrete and other solid-surface hanrdscaping installations can channel runoff water in unusual and often unexpected ways. Natural stone is a more effective option for homeowners who wish to avoid the problems caused by standing or pooling rainwater.
Benefits of Professional Installation
Working with an experienced professional landscaper can make a world of difference in terms of the finished results and overall level of quality a hardscaping project will be able to provide. Professional help may be needed in order to:
Utilize a wider variety of natural stone materials
Undertake larger installation projects more easily and conceniently
Ensure the best results during hardscape creation or installation
The more durable nature of natural stone makes it an ideal material choice for a variety of landscaping and hardscaping projects. The quality results that only a professional may be able to offer can allow homeowners to more easily create the home and landscape of their dreams.
"We recommend Twin Oaks to any entity looking for a full-service, talented, and responsive provider."
Therese Mahoney
Secretary/Treasurer of Doral Creek Condominium Association, Ann Arbor, Michigan