Digital Landscape Design Services for Discerning Homeowners
Landscaping the property around your Ann Arbor MI home used to be a hit or miss proposition. You would describe what you had in mind to the landscaper and they would describe what they thought you were looking for back to you. Together you would go through their portfolio of previous work to pick and choose parts for your project. A good landscaper might have given you an artists rendering of something close to what the finished project would look like. Fortunately, time and technology have marched on.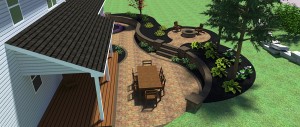 What Digital Landscape Design Can Do For You
Modern computer programs allow the landscaper to create photo realistic renderings of the proposed project that will allow you to see exactly how the work will look when it is completed. This allows you to make subtle changes to features that would have gone unnoticed until it was too late before. This saves you time and money by preventing costly upgrades before they can happen.
How Landscapers Use Digital Landscape Design
The process of creating a digital design for your property is fairly simple and only requires your landscape designer to go through a few steps.
1. The designer will come to your home for a first appointment. While there they will take digital photographs of the outside of your home and the area around it to be landscaped. They will also take detailed measurements, determine water drainage and catalog any other information that they need.
2. They will then sit down with you to find out what you would like the finished product to look like. This discussion will cover hardscaping, plant choices, path routes and everything in between.
3. At this point, they will return to their offices with the photos and their notes to begin work on your design. The photos will be downloaded into the design program and overlays of the proposed designs will be inserted, adjusted and edited to match what the designer believes you want.
4. When the designs are finished, usually within a few days, they will schedule a second appointment with you. Here they will show you realistic images of what the finished project will look like. During this appointment, small adjustments can be made to the design until it is perfect in your eyes. If major changes are needed they may have to return to step three and try again.
5. When you are satisfied, work will finally begin with no surprises waiting down the road.
Your landscape designer will be able to help you through the entire process. They will know what plants will do best in your yard, what stone and rock are available and most attractive for walkways and retaining walls, and the best ways to direct drainage of your property. With the finished digital designs in hand, you will know exactly what you are getting and how your Ann Arbor MI home will look to all of your neighbors. You can even begin showing off while the work is going on.
Get your yard looking its absolute best with custom landscaping solutions from Twin Oaks. Find us online at https://www.twinoakslandscape.biz/, visit us in Ann Arbor, MI at 4100 South Maple Road, or call us at (734) 213-6911.