Designing A Custom Deck With An Ann Arbor, MI Deck Builder
Summer is a great time to think about outdoor home improvement projects. Exterior decks, lighting, built in grills and hot-tubs not only add to the value of the home, but allow for outdoor dining, leisure, and entertainment. When considering what type of deck would be most appropriate for the home there are several considerations, as well as several ways of planning for customized decks.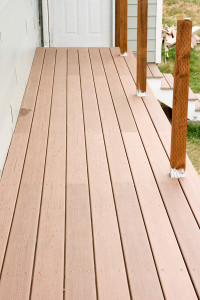 Planning Your Deck
The first step in deck planning is designing the outdoor deck. Decks range from basic outdoor spaces made of wood, stone and decorative cements. They range in style, function and amenities depending on what homeowners are trying to achieve Chelsea Michigan. Not all decks are appropriate for all homes. Small homes will require smaller decks, while larger homes, with larger yards might allow for above or in-ground hot tubs, fire-pits, or waterfalls. Deck costs can vary widely depending on the materials, type of deck, and inclusions such as hot-tubs and other items. To get ideas for deck styles look in magazines, surf the internet, go to design sites, or deck websites to get ideas for the perfect back yard deck. There may also be other personal preferences.
Special Considerations
hot tubs, fire-pits, waterfalls
Deck Design
The outdoor space of the home and the size of the home is essential in deciding what type of deck is appropriate, as is the size of the home and age of children. While all things are possible in deck design those with small children may have special considerations related to safety, and the deck should be geared toward family use Ann Arbor Michigan. Deck builders designing and building for family environments might include an above ground grill, instead of a fire pit, or enclose hot-tubs to restrict child access. For those without young children decks would be geared toward entertainment or romance with soft lighting, or privacy enclosures.
Available Space
Size of the home, available outdoor space, budget and desired materials are also major considerations in deck design. Not all designs are compatible with smaller homes, or yards, especially those with special customized features. Once homeowners have a general idea of the type of deck they envision consulting with a deck builder is a good choice.
Deck Builders
Builders can give homeowners a price estimate based on deck style, desired materials, features, and budget. If the budget doesn't allow for the features envisioned builders can adapt the original concept to meet budgets and home type. They also take measurements, and ensure the deck meets state and county codes. Skilled builders also consider utility lines, zoning requirements, and any legal neighborhood restrictions, such as those through home owner associations or neighborhood agreements Ann Arbor Michigan. This ensures the perfect deck, built and installed with profession and ease. Homeowners are assured a beautiful deck that adds to the value of the home, and provides years of joy and entertainment.
Get your yard looking its absolute best with custom landscaping solutions from Twin Oaks. Find us online at https://www.twinoakslandscape.biz/, visit us in Ann Arbor, MI at 4100 South Maple Road, or call us at (734) 213-6911.