May 18, 2014
Homeowners in Ann Arbor, Michigan have started a whole new gardening trend: Rain gardens. Homeowners here are doing their part to conserve water and maintain their gardens in the best possible way. These special gardens are found wherever rain water runoff is a problem for homeowners. This is a great idea that won't remain a Michigan secret for long. Ann Arbor landscaping has grown to a well-coordinated effort to control water runoff that damages lawns, gardens and foundations.
The Creative Michigan Garden
Turning a downspout into a garden isn't a job for amateurs. Professional landscapers know best the topography of the Ann Arbor region. They design, create and install rain gardens that are a tribute to their creative use of soil, plants and knowledge of water control. Every homeowner has a spot on their property that gets too much moisture from rain events. That's the time to call a professional to resolve the problem.
Most of these problems occur with sloped or inclines in soil that collects water quickly. When water collects after rain events, insect infestation like mosquitoes and flies follow. To avoid this problem, a professional landscaper makes full use of the slope or incline by adding rocks, stones and decorative barriers to enclose the area collecting rain water. In most designs, a small protective filtration basin is built into the garden to manage rain fall.
Landscaping designs are created in several layers. These may include:
. A water retention basin layer
. A fabric filtration layer
. A layer of soil that encourages plant growth
. An outer layer of filtration fabric for quicker absorbency
. A water flow control
The design is completed with a profuse abundance of water-retentive plants added in decorative designs created by professional landscaping designers. These plants generally have thirsty roots that will tolerate high levels of rain water.
Types of Garden Designs That Add Curb Appeal
There are a broad range of styles and designs for these gardens homeowners may choose from. Many of these designs contrast or coordinate with the style of the home. These are gardens that multi-task effectively by providing the necessary rain water control and by adding beauty to the Michigan homeowners' properties.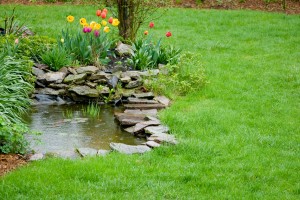 Landscaping Assistance for Ann Arbor Homeowners
The toughest decision to make about a garden that balances rain water with soil is which of the wide variety of plants to choose. If shade is needed in a front or back yard, consider adding ornamental or other types of shade trees. Professional landscapers can be relied upon to assist with choosing the best types of water-retentive plants, decorative rocks and designs. Instead of a soil-eroded appearance that detracts from curb appeal, consider the value of proper rain fall protection that adds property value. A professionally landscaped lot always increases home values. For homeowners, there's also the enjoyment of a beautiful, lush garden laden with a rainbow of colors. The next time you inspect your downspouts, think how much more beauty could be added with a rain garden.
"We recommend Twin Oaks to any entity looking for a full-service, talented, and responsive provider."
Therese Mahoney
Secretary/Treasurer of Doral Creek Condominium Association, Ann Arbor, Michigan