April 30, 2015
If you live in Ann Arbor MI, you're no stranger to precipitation. Located in the heart of southern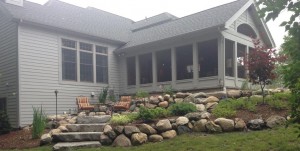 Michigan, this region of roughly thirty square miles receives more than thirty inches of rain or snow each year. The beautiful terrain of this lush continental environment has drawn admirers for generations, many who decided to settle permanently. But development paired with this generous moisture can present problems of runoff, sediment attrition and other issues that damage property.
Is a Retaining Wall the Right Solution?
Retaining walls provide answers to many difficulties centered on how to render land useable and attractive, while maintaining the defining ecological characteristics of the area. They aren't just used to hold the earth back, but can be implemented in other ways. If your property has a steep hillside you would like to make use of, a series of retaining walls can be built to gently terrace the land for garden landscapes and activities, while also keeping the surface stable enough for leisure pursuits. They can also help manage drainage issues by providing a stable matrix in which to install piping and runoff control measures.
Rain Gardens
A rain garden is ideal to this type of environment, but does require some moderate earth moving in order to prepare the area. Walls ensure that terracing measures remain stable long enough for plantings to establish root systems, which will further stabilize the earth. They also help to create boundaries for planting beds that may require some significant stratigraphic remodeling—putting in place layers of soil or sand that help with drainage.
The purpose of rain gardens in areas that receive a great deal of precipitation is to manage the runoff in an ecologically responsible way that does not harm the environment. Rather than allowing water to run unimpeded downslope, picking up sediement that can clog natural waterways or rainwater storm drain systems, plantings in a rain garden act as a natural, spongy barrier. The plants' root systems and the modified slopes where they're situated slow the water and channel it downward into the ground, so that it returns to the water table.
In order to create a beautiful, long-term rain garden plants indigenous to Ann Arbor MI or the surrounding countryside and hardy imported species should be used. Rain gardens can often be used to enhance the value of a property, because they offer more level terrain that can be used for living activities. Pathways, paved areas for grilling or lounging, and play areas can be incorporated into the planting designs. As well, using indigenous plants—without pesticides or herbicides, due to the nature a rain garden's function—will attract a host of indigenous species of birds and beneficial insects, like butterflies and bees.
Retaining walls are integral to establishing an ecologically healthy terraced landscape. While they are most commonly used in hilly areas, they can also be used to create visual interest in relatively flat yards and gardens. Raised beds are especially good for edible garden produce. However, a raised flower garden with a wall encircling it provides a stunning visual statement and draws the eye to the natural beauty of the garden, adding value and usefulness to your property.
Get your yard looking its absolute best with custom landscaping solutions from Twin Oaks.
Find us online at https://www.twinoakslandscape.biz/, visit us in Ann Arbor, MI at 4100 South Maple Road, or call us at (734) 213-6911.
"We recommend Twin Oaks to any entity looking for a full-service, talented, and responsive provider."
Therese Mahoney
Secretary/Treasurer of Doral Creek Condominium Association, Ann Arbor, Michigan