Considering Whether or Not to Build Retaining Walls in Your Yard
Maintaining a great looking yard is something that all homeowners want, although that can be easier said than done. Although it is difficult for many people to get out and mow the lawn with regularity, mostly due to the fact that most people that own a home work full time, shaping a lawn that looks great is a far greater task. This is only amplified when a property has a slopped property, excessive rain or drainage problems, or a variety of other reasons, which may lead a person to want to put in a
retaining wall
.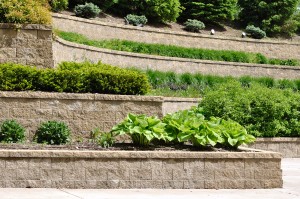 Reasons for Putting in a Retaining Wall
* Retaining walls can also be put in strictly to increase the aesthetic appeal, as they can truly make a yard come together and make the property look fantastic. If you happen to be considering whether or not to put a retaining wall somewhere on your property, there are a ton of things that you are going to have to consider.
Landscaping Company
* The best course of action in this type of scenario is to contact a local landscaping company, which can best assist you in determining whether putting in retaining walls will be ideal for you. If you do decide that you want to put in a retaining wall, a qualified landscaping company will be able to not only help you pick out the various styles, but will also be able to provide the installation.
Searching for the Right Company
* Before simply going out and hiring any company, it is vitally important that you do a great deal of research and select a company that has gotten a great reputation in the community. You can find various companies in your area by doing a quick search on the internet and checking out the corresponding ratings and reviews that are likely to have been left by other people who have hired such companies.
* A good rule of thumb is to totally avoid any company that does not have any reviews online. This likely means that they have not done a great deal of work in the community, or may not have the proper permits and licenses to be conducting landscaping work. If you live in the city of Ann Arbor MI, you can find some companies online by doing a search for landscaping companies in the city of Ann Arbor MI.
* Once you have found a handful of companies that have gotten decent reviews online, you can go ahead and give them a call and inquire about putting in a retaining wall. They will likely want to come out to your property to assess it in person, as each and every yard is going to be approached differently when it comes to installing retaining walls. Although it might cost a bit of money to put in a retaining wall, you can count on the fact that your property is going to go up in value, which is definitely something to consider on top of the fact that it will also make your yard look great and maintain the soil in a far superior way.
Get your yard looking its absolute best with custom landscaping solutions from Twin Oaks. Find us online at https://www.twinoakslandscape.biz/, visit us in Ann Arbor, MI at 4100 South Maple Road, or call us at (734) 213-6911.