May 1, 2015
Controlling the flow of water on your Ann Arbor MI property is a top concern, and there are several good reasons for this. While you may welcome a refreshing shower from time to time to water your lawn, bushes and flowers, you may have areas of your yard that are prone to flooding during heavy showers or even when you water your lawn. Generally, these flood-prone areas may be at a lower elevation than the rest of the yard, and water may run downward and collect in this area. The areas may also be shaded areas that do not dry out as quickly as the rest of the yard does. This can cause a number of problems for you as a homeowner, and a great idea to resolve the problems is to install trench drainage in your yard.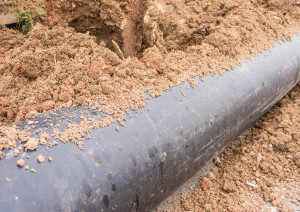 Why Flooding is a Problem for Homeowners
A small wet spot in your yard from time to time may not be that big of a deal. However, when you have a large spot that is often wet or even pooling water, you may find that it is difficult to grow plants here. The area may alternate between looking like a mud pit in wet weather and a dry, barren area when it has not rained for awhile. This can also result in erosion, runoff and other unpleasant and even damaging issues that homeowners do not want to deal with. As a homeowner in Ann Arbor MI, you should protect your property from the detrimental effects of flooding.
What Is Trench Drainage?
When you contact a landscaping company for assistance with your flooding and drainage issue, the landscaping company generally will inspect the yard before recommending an approach that is both functional and aesthetically pleasing. A trench that is used for drainage purposes is one option that may commonly be recommended. With this option, the landscaping crew will dig a small trench that will collect the water and will carry it down and away from the property. This generally will be installed in an area where the water flow or the pooling of water is heaviest.
Decorative Options to Consider
When you think about installing a trench on your property, you may not think that this would be aesthetically pleasing. However, a professional landscaping company may employ several techniques to make this more decorative for you. For example, river rocks can be placed over the trench to create the look of a dry creek bed over the trench. Some types of drainage features can even accommodate vegetation being placed over them. Your landscaping company can help you to learn more about the different options.
While water pooling and runoff can be a problem on your property, there is a clear and easy solution to fight this problem. If you are dealing with a drainage issue on your property, a great idea is to contact a landscaping firm to learn more about trench drainage solutions and other ideas that may be suitable for your space.
Get your yard looking its absolute best with custom landscaping solutions from Twin Oaks. Find us online at https://www.twinoakslandscape.biz/, visit us in Ann Arbor, MI at 4100 South Maple Road, or call us at (734) 213-6911.
"We recommend Twin Oaks to any entity looking for a full-service, talented, and responsive provider."
Therese Mahoney
Secretary/Treasurer of Doral Creek Condominium Association, Ann Arbor, Michigan