Considering the Benefits of Natural Stone for Your Next Hardscape
What exactly is a hardscape?
A "Softscapes" portion in landscapes refers to the living items such as plants, trees grasses. While a "hardscape" refers to any hard elements found in your landscaping design. From concrete to stone pavers, to retaining rock walls and landscape lighting, even gates and fencing are often used in hardscape design. Using both elements in your landscape design will give your property a modern and well maintained look that will last for years to come. Ask yourself how much time and do you want to spend maintaining your yard? Utilizing more elements in your landscape can often reduce hours of tough yard work. Adding a patio, walkway or another stone feature to your yard will add beauty and reduce the square footage of lawn that you need to water and mow regularly.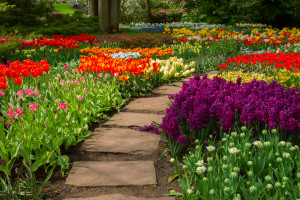 What are the differences found in natural stone?
The beauty of natural stone is more popular than ever and regarded as the finest in building materials, whether used inside the home or out. Let your personality shine, and choose the natural stone feature of your choice. From rustic stones like slate to grand marble stone pieces. Transform your yard into a unique and inviting setting for entertaining or just a perfect place to relax after a long day. Here are a few of the best outdoor stones used in landscapes today around Ann Arbor MI:
*Marble – This palatial material is known to be the most famous and considered the most luxurious of stone materials. It exudes a timeless elegance and is absolutely beautiful. This is an ideal material to use both inside and out for the home because it is soft enough to work with in many different ways, but hard enough to withstand the test of time.
*Granite – This extremely hard stone is resistant to stains as well as to scratches. It is considered the most resilient of all stones. It is known to feature streaks of colors and some hints of crystal-like elements.
*Limestone – This natural hardy stone comes in a wide variety of colors, making it a great choice of material for patios and pavers. For a more laid back or rustic look, limestone is the way to go.
*Slate – This hardy water-resistant material comes in a wide range of matte shades. It is ideal for outdoor use, and is often used for pool decks and in water features.
*Travertine – This natural stone is easy to work with and also comes in a wide variety of colors. IT is similar to limestone and features the same porous and rustic characteristics. It is best used in and around walkways.
Is Natural stone right for me?
Nothing can really compare to the durability of natural stone. Natural stone has the capacity to withstand severe climate changes, sudden impact, and the test of time. Incorporating natural stone elements into your landscape will make a lasting impression for generations to come. Even the sometimes rough winters of Ann Arbor MI.
Get your yard looking its absolute best with custom landscaping solutions from Twin Oaks. Find us online at https://www.twinoakslandscape.biz/, visit us in Ann Arbor, MI at 4100 South Maple Road, or call us at (734) 213-6911