February 22, 2015
New to Ann Arbor Michigan and need advice on changes to your home's landscaping? Or, maybe you have lived there and want to upgrade your yard. Do you desire more privacy or more esthetics? What ARE you looking to do? Take stock and then give evergreens a serious look to see if they could fill you needs and desires. An excellent way to decide on what would work well in your yard is to seek the advice of a tree services consultant.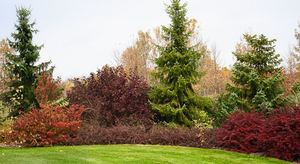 There are many varieties of evergreens. Some benefits of choosing an evergreen are:
1. Evergreens in your landscaping can add value to your home not only by being pleasing to the sight, but also by protecting your home from cold winds when used as a windbreak.
2. Evergreens, placed along property boundaries provide noise reduction as well as personal privacy.
3. There is an array of varieties of evergreens that are suited to enhance your yard as well as patio.
4. A variety of evergreens can provide a good wildlife habitat – especially for song birds.
5. You will spend less time raking in the autumn, as the evergreens retain their leaves/needles throughout the year.
6. As the evergreens grown, you will spend time mowing your yard.
7. As your lawn will be smaller, you will save money by not using as much fertilizer (thereby being kinder to the environment).
Ann Arbor Michigan is a lovely place. You may think that because of its far north location, it might be difficult to choose a variety of plants with purpose and interest. This need not be the case. Some important facts regarding the climate in Ann Arbor, when deciding on plants for your landscaping:
• average annual high temperature of 59°
• average annual low temperature of 40°
• average number of days with rain/snow is 160
• average annual precipitation (rain/snow) is 36.7"
• plant hardiness zone is 4
A tree service specialist in the Ann Arbor Michigan area would be able to guide you and give suggestions on what evergreens would work well in the various areas of your landscaping. The important first step is to take the time to think and plan what you want to do. This will enable you and the tree service specialist to converse more effectively.
Interesting evergreens to check out:
• Thuja Green Giant – quick, columnar growth at 3-5 feet per year
• Leyland Cypress – popular variety that has a growth rate of 3-5 feet per year
• American Holly – quick growing, dense foliage that grows most anywhere
• Juniper "Wichita Blue" – pleasing bluish foliage that makes a good hedge
• Cryptomeria Radicans – easy to grow conifer with lovely feathery foliage
• Little Gem Magnolia – drought tolerant narrowed columned little tree with large, creamy white flowers
• Hetz Midget Thuja – small shrub that tops out at four feet and has blue green foliage
• Rainbow Eucalyptus Tree – can be a large tree, yet can be grown in a container – most unique multi-colored peeling bark
Now is a great time to start thinking and planning out changes and updates to your landscaping. Reach out to your favorite Ann Arbor tree services to help you with your planning, choices, acquiring and planting of your new evergreens. Don't forget to keep in touch with your tree services specialist after the new plantings to assure the health of your investments.
Get your yard looking its absolute best with custom landscaping solutions from Twin Oaks.
Find us online at https://www.twinoakslandscape.biz/, visit us in Ann Arbor, MI at 4100 South Maple Road, or call us at (734) 213-6911.
"We recommend Twin Oaks to any entity looking for a full-service, talented, and responsive provider."
Therese Mahoney
Secretary/Treasurer of Doral Creek Condominium Association, Ann Arbor, Michigan