April 29, 2014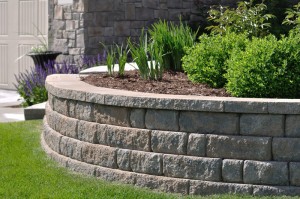 A retaining wall is a stone, wood or brick structure that is built to hold dirt and debris in place or to add intensity and depth to a landscape. These resilient hardcapes serve an important purpose while helping to create a decorative and attractive landscape. The most common uses for a retaining wall are:
Sloping Property
There are circumstances where a retaining wall may be built as a practicality or necessity. When dirt, stones, and water run down sloped land, dumping debris onto lower regions of the property, a wall may be used to contain the debris and hold it in place. Just because this type of wall is built to serve a functional purpose does not mean it has to be an eyesore. These types of hardcapes can certainly be designed to compliment the landscaping as well.
Raised Gardens
Retaining walls can be built to outline a garden. This will add beauty to any garden bed while keeping the surrounding areas clean. A beautiful stone or wood wall will highlight the garden to accent its natural beauty. Secondly, it will keep dirt, mulch, and stone used in the plot from spilling onto the grass, pavement, and other surrounding areas.
Texture and Visual Appeal
A dull, flat lawn and yard can be brilliantly brought to life with a well designed hardcape. Landscaping the property with layers of soil held in place with retaining walls will give the otherwise bland terrain character and charm. There are endless possibilities when designing a landscape since there are a plethora of materials, colors, and textures that can be used for constructing the walls.
Separate Areas
Retaining walls can be built to segregate different areas of the yard in order to embellish the landscaping. Hardcapes may be used to accentuate a pool area, to bring out the beauty of a patio, or to profile a path or walkway.
For an even more aesthetically pleasing display, accessories can be added to a retaining wall. Waterfalls and well placed lighting can add ambiance to the property. A waterfall instantly adds stunning beauty and a sense of serenity to the landscape. Water flows smoothly from a rock wall into a constructed basin where it is then recycled. Ground mounted and recessed lighting is the perfect way to accent any hardcape. Lighting not only provides alluring beauty but it also adds security. When adding lighting, individuals can choose traditional white lighting or mix and match from a number of colored options.
Although retaining walls are designed to make a yard more functional, there are problems that can arise. These structures can bulge, crack, and even dismantle. Poor drainage and excessive pressure are most often to blame for these problems. Strong construction and proper installation will usually solve these problems. Unfortunately, there are times when environmental factors like excessive rainfall may make it nearly impossible to build or preserve the structure. It may be wise to consider the climate and environment before including retaining walls with the landscaping.
When deciding whether a retaining wall is the right choice, it is advisable to look over all the options. Designing the perfect landscape will take some thought, especially when choosing the right materials to build the hardscapes. Consulting with a professional will ensure that the wall is designed beautifully and built accurately.
"We recommend Twin Oaks to any entity looking for a full-service, talented, and responsive provider."
Therese Mahoney
Secretary/Treasurer of Doral Creek Condominium Association, Ann Arbor, Michigan