February 24, 2016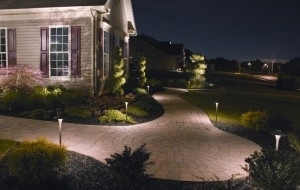 Outdoor lighting is commonly installed to dress up a property's curb appeal, and it also can enhance security by lighting up darkened or shadowy areas of the yard at night. There are a wide range of exterior lighting solutions that include spotlights, accent lighting and more, and these are only effective at doing their job when they are not blocked in any way. However, during the colder months of the year, snow and ice can pile up in the Ann Arbor MI area, and this precipitation can keep the lights covered up for many days or even weeks on end in some cases.
Clearing Away the Snow and Ice
When snow and ice begin to accumulate in your yard, you understandably need to remove it. It can impact the condition of your home, cause flooding when it melts and block the light from your outdoor lighting features. Because the lights are blocked, the front of your home may be dark, and accidents from slips and tripping can occur. In addition, the security of your home may be impaired until the lighting is restored. Clearing away snow and ice is necessary after each snow storm or ice storm that blows through the area, so this is an ongoing process throughout the winter months.
The Easy Solution for Snow Removal
While you could remove the snow and ice from your property on a regular basis throughout the winter months on your own, there may be an easier solution available. Through your Ann Arbor MI landscaping firm, you can schedule snow removal service throughout the winter season, and you can rest assured that the precipitation will be removed from regularly from the areas around the lights as well as throughout the rest of the yard. This is a true benefit for the security of your property as well as for the safety of those who walk across the yard.
Other Winter Landscaping Services for Your Home
Snow removal is not the only winter service that your Ann Arbor MI landscaping firm can provide for you. For example, you may also have a sprinkler system that you use throughout the summer months to water your lawn and gardens with ease. Your landscaping firm may provide a winterization service for your sprinkler system. Raking leaves in the fall and rejuvenating the lawn in the spring are other related services that your firm may provide to you during the off-season from fall to spring each year.
Lighting up your exterior is beneficial throughout the year, but snow and ice can easily cover up your spotlights, accent lighting and other outdoor lighting features during the winter months. Removing the snow with professional snow removal service is an easy way to continue to enjoy the benefits that your lights provide, and it also can make your outdoor space safer for others who visit your property. Contact your local landscaping firm for more information about regular snow removal service and other types of winter services that could benefit you.
Get your yard looking its absolute best with custom landscaping solutions from Twin Oaks. Find us online at https://www.twinoakslandscape.biz/, visit us in Ann Arbor, MI at 4100 South Maple Road, or call us at (734) 213-6911.
"We recommend Twin Oaks to any entity looking for a full-service, talented, and responsive provider."
Therese Mahoney
Secretary/Treasurer of Doral Creek Condominium Association, Ann Arbor, Michigan