Choosing Between Organic and Chemical Fertilizers for Your Yard
Keeping a gorgeous lawn in Michigan can sometimes be tricky if you are not knowledgeable about lawn care or the different fertilizer products available to you. When you begin to use a fertilizing product that is great for your grass, you will find that it looks more plush and vibrant when compared to other lawns in your neighborhood. It is essential for you to know the differences between organic products and chemical ones so that you know which type if the best option for you.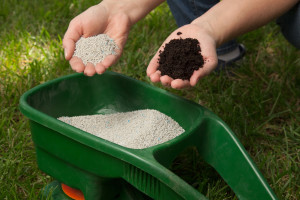 Why Use Organic Products on the Lawn
Organic products, whether you're talking about food-related items or products used on the lawn, are made using some of the most natural ingredients you will be able to find. Something cannot have an organic label stamped onto it if the ingredients used are not 100 percent organic in their nature. Organic products for the lawn have a wide range of benefits that you might be interested in making use of for your Ann Arbor MI home.
Organic fertilizer does not use chemicals, so you can feel safe with pets and children playing on the grass.
Products made with organic ingredients are better for the health of the environment.
When you use organic products, you're benefiting companies that have taken strides to improving the quality of their items.
Making the Choice to Use Chemical Ingredients on the Lawn
There are a lot of chemical fertilizing products on the market that you can also use for your home's grass. The issue with chemical fertilizers is that they can be dangerous to the environment as well as anyone who might be laying or playing on the grass. If you have pets or children who like to frolic on the lawn, you may not feel as confident when using chemical products. The only benefit that will come with choosing chemical products is that they tend to be cheaper as well as faster-working. Here are some things that you should know if you are going to be using chemical ingredients for the health of your lawn.
Chemical fertilizing products work quicker and often more potently when put onto the lawn.
These products can be cheaper and more cost-effective if you have a very large property.
Chemical products may be dangerous to the environment as well as to those who lay or play on the lawn, such as dogs and small children.
When making a choice on the fertilizing products for your Ann Arbor MI home, you will want to speak with the experts before making the final decision. Only a professional will be able to tell you which product is best suited to your needs as well as to do the actual work for you. Having a gorgeous lawn can help to improve the value of your property and increase its general curb appeal. This is why using a good fertilizing product can help to obtain these amazing results for your lawn.
Get your yard looking its absolute best with custom landscaping solutions from Twin Oaks. Find us online at https://www.twinoakslandscape.biz/, visit us in Ann Arbor, MI at 4100 South Maple Road, or call us at (734) 213-6911.