June 6, 2015
The yard of a house is a bare canvas waiting for an artist to bring it to life with form, shape, color, and texture. But this artwork isn't created with oil or acrylic paint; it is made with rocks, concrete, pathways, grass and plants. These are the hardscape and softscape elements that are talked about frequently in Ann Arbor MI.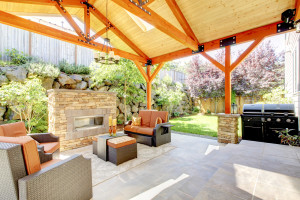 Hardscapes
At its simplest, hardscapes are those physical elements that define the shape and boundaries of the property. Fences, rock, or concrete walls construct the boundaries of the areas of interest in the yard. Pathways and garden barriers provide shape and movement within the space. Major fixed elements such as patios and pools create areas for specific functions. The choice of which elements fit in the available space is determined by the size of the property along with the lifestyle of the owners and their vision of their home. The vision can be almost anything from carefully detailed and designed traditional look to a more natural and rustic setting.
Softscapes
Softscapes refer to the trees, plants, grasses and other elements that provide the texture and color to the space. The choice of plant material can add height, color and texture to soften the look of the hard points or create dramatic niches within the framework of the hard materials. The choices can include tall or short trees, shrubs and hedges, annual and perennial plants, and vegetables. For additional smells and attractions, herbs and butterfly-attracting plants can easily be included.
Hardscapes vs. Softscapes
Hardscape items tend to be expensive and involve moving dirt and establishing permanent structures like gazebos, fire pits, outdoor kitchens, and water features. These are also one-time costs for the infrastructure that can and should last for a long time with minimal maintenance except for normal cleaning and care.
Plants on the other hand, should be selected with the thought of maintenance in mind. Grass requires regular mowing and edging. Larger trees will grow may require pruning and cleanup of annual leaves, nuts or fruit. Perennials tend to need less maintenance while annuals must be refreshed and replanted yearly. All plants also require watering, feeding, composting, and mulching to sustain their beauty and viability. Edible plants have the added benefit of providing their seasonal food to the kitchen.
All of these elements come together with a meaningful design. It should feature a nice balance of points of interest that is neither too cramped nor too sparse. Over time, the elements mature together to look like the yard was natural and "meant to belong" with the house. Whether new or mature, it should also provide a relaxing and important part of the life of the owners.
Professional design services are available or a personal design can be utilized but to insure that the garden lives up to its potential, a professional landscape company should be used to install the permanent fixtures and the plant material to insure that proper and long lasting installations are created that meet all local codes. In Ann Arbor MI, the landscape company to call is Twin Oaks.
"We recommend Twin Oaks to any entity looking for a full-service, talented, and responsive provider."
Therese Mahoney
Secretary/Treasurer of Doral Creek Condominium Association, Ann Arbor, Michigan