April 18, 2015
When you are redesigning your yard, you may be focused on creating a design that enhances curb appeal with beautiful results. A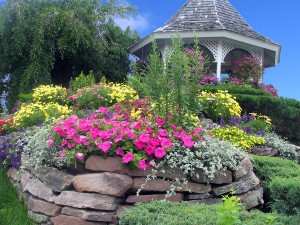 fter all, few things will impact the exterior look of your yard more significantly than landscaping. More than that, you may want to add features that are easy to maintain and that will give you lasting appeal to your space. While there are many types of landscaping features that homeowners may choose to use, it is important to understand the difference between hardscaping and softscaping when renovating your Ann Arbor MI yard. With some attention to these elements and how they can be used in your space, you may be able to design a better overall landscaping scheme for your home.
The Difference Between a Hardscape and a Softscape
Hardscaping essentially refers to the use of permanent and non-vegetative materials in your yard. This may include using pavers for patios and walkways, stones for flowerbed borders and other related features. Softscaping, on the other hand, refers to the vegetation in the yard, and it includes flowers, shrubs and more. In most yards, you will need a combination of these features in order to create the ideal results, so it is best to learn more about how these features can benefit you and can be used creatively in your space.
How to Use Hardscape Features
When you install pavers, stones and other permanent features in your yard, you are creating defined spaces that are generally fairly easy to maintain and that will look great with minimal effort required. For example, pavers may define a patio space and may only need to be power washed from time to time. These may be used around the perimeter of your vegetation, to make foot traffic areas more attractive and to generally decrease the amount of maintenance your yard will require.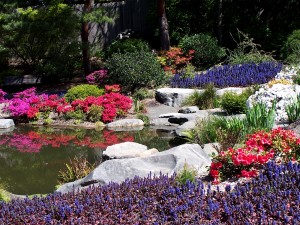 How to Include Vegetation in Your Yard
With most yards, some softscape features are needed. This give the yard a natural, fresh look, and it can add color and appeal. However, these features may require trimming, pruning and edging. Annual flowers will need to be replaced regularly. Flower beds will require mulching and weeding. When you select these features, focus on maintenance, and choose native plants when possible to reduce maintenance and watering requirements. Keep in mind that your overall landscape design can include a wide range of vegetation types to create eye-catching color schemes and patterns. In this way, softscape features can boost appeal and can enhance your hardscaping features.
Improving the look of your yard is not as difficult as you might think, but it does require creative planning. It is important to understand how each of the different features can be used to promote beauty and style in your yard while also adding functional benefits. To achieve the best results when redesigning your landscaping in your Ann Arbor MI yard, you should take time to create a beautiful design for your yard that incorporates the right combination of hardscaping and softscaping features.
Keep your lawn looking beautiful with maintenance services from Twin Oaks Landscape.
Find us online at https://www.twinoakslandscape.biz/, visit us in Ann Arbor, MI at 4100 South Maple Road, or call us at (734) 213-6911.
"We recommend Twin Oaks to any entity looking for a full-service, talented, and responsive provider."
Therese Mahoney
Secretary/Treasurer of Doral Creek Condominium Association, Ann Arbor, Michigan