Caring for Your Outdoor Water Feature This Fall
A well constructed and beautifully designed outdoor water feature can bring out the best in any yard, be it front or back. Statues, rocks and creative designs can all be used to tie everything together for a clean aesthetic look or a more natural and classic look. In the midst of fall in Ann Arbor MI, it is important to look after your water feature and keep it running smoothly and healthy. Without the proper vigilance and maintenance, your water feature can get very dirty and cause many problems that could end up hurting you financially. Here are a few things you can do to make sure your outdoor water feature continues running smoothly throughout the cool falls here in Ann Arbor MI.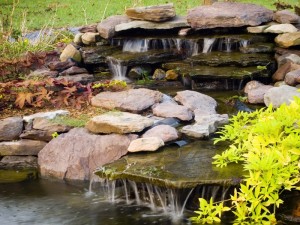 – Check the chemistry of your water feature (i.e. chlorine and pH levels)
– Power-wash or hose down water feature
– Check to make sure pump is running smoothly
One of the most critical things you can do in order to maintain the health of the water in your water feature is to check it's chemistry. Chemistry kits to check water pH and chlorine levels can be bought at most hardware stores for a reasonable price. Essentially, you take a sample of your water inside a tiny tube and then place different chemicals in each tube depending what you are testing for. Directions will come with the chemistry set that will instruct you with what to do. Depending on the reactions between the chemicals you add and the water from your water feature, you can tell what needs to be added to your water depending on the algae present.
Another maintenance ritual you can perform on your outdoor water feature is to give it a thorough cleaning. Turn the water power off so that you can concentrate on the areas that are usually under water or covered by water. From here, it is most useful to use a power washer or a hose depending on how fragile the parts of your water feature are. Use the hose or power washer to remove all of the mold and growth that can start to grow on you water feature. This will help prevent any further growth as well as helping the water to flow more naturally and freely. Not to mention, you water feature will look much better with a fresh, clean look.
Lastly, to make sure everything will continue to run smooth within your water feature during the fall, you can check all of the piping, hoses and pumps. This ensures that there are no leaks or breaks within your lines. Doing this not only prevents future problems, but it also can fix minor problems before they become major ones. Doing this will require you to turn off the water again and to move some things around to get to the hoses and submersible pump. However, there should be a cap or hatch that you can open and view the submersible. A simple look within the compartment which houses your submersible will be enough to determine if everything is running smoothly.
Get your yard looking its absolute best with custom landscaping solutions from Twin Oaks. Find us online at https://www.twinoakslandscape.biz/, visit us in Ann Arbor, MI at 4100 South Maple Road, or call us at (734) 213-6911.