Can Sprinkler Systems Save Your Lawn?
Your lawn is an investment in the visual appeal of your property and adds to the value of your home. Proper lawn care requires time and attention to ensure that you provide sufficient water during dry periods. Without this routine care, homeowners can experience deterioration of the grass and the additional expense of re-seeding or re-sodding the lawn. Sprinkler systems automate the watering of grass plants to ensure that they get the moisture they need, regardless of your busy schedule. A lawn irrigation system can save your lawn from hot weather, when you are too busy to handle this additional task.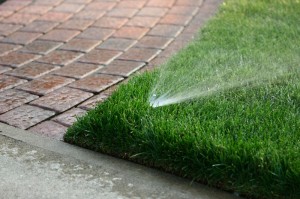 1 – Convenience for Busy Homeowners
Today, most people are too busy to spend time on the critical maintenance needs of their lawns. Residents in Ann Arbor MI prefer to spend the warmer months engaged in more interesting activities than lawn maintenance. An automatic sprinkler allows homeowners to forget about their lawn's water needs and concentrate on enjoying the summer weather with family and friends, knowing their lawn investment is being taken off by a reliable, automated system.
2 – Lawns Are Watered Consistently
An automated system is highly efficient because it provides the needed amount of water on a consistent basis.
· Homeowners can determine the right amount of water for their needs and ensure that it is dispensed on a regular basis.
· Some systems can even include a rain-sensor that adjusts the amount of sprinkling based on needs.
· These systems ensure that your lawn continues to look its best regardless of weather conditions.
3 – Automated Systems Help Conserve Water
Systems can be installed to provide water for individual areas of your landscape design. Instead of outdated, haphazard sprinkling methods, these systems can direct water to plants that needs it most. A system can ensure that your lawn can withstand the driest periods of the year, ensuring that Ann Arbor MI homeowners preserve their landscaping investment.
4 – Keep Lawns Green While Saving Money
Sprinklers can also save you money by turning on during the night and evening hours when water costs are generally lower. Your system can also be adjusted to provide only the amount of water your lawn needs, preventing water waste seen in less efficient systems.
5 – Lawn Sprinkler Systems Remember When You Forget
In today's busy world, homeowners no longer have time to devote to lawn care that they once did. Tending to lawn maintenance is no longer a practical consideration for many families, who often have two breadwinners and children that attend after-school activities. Managing these tight schedules often leave no room for home maintenance concerns. Unfortunately, this can lead to neglect of your lawn that sometimes leads to dried patches and no hope of bringing it back to its former beauty. An automatic watering system can ensure that your grass gets the correct amount of water to keep it from becoming brown and unsightly.
If you have ever watched your lawn go progressively browner despite your efforts, you will understand the value of having a system that takes care of this important task automatically. Consider how a sprinkler system can help make your life easier, and your lawn, better cared for.
Get your yard looking its absolute best with custom landscaping solutions from Twin Oaks. Find us online at https://www.twinoakslandscape.biz/, visit us in Ann Arbor, MI at 4100 South Maple Road, or call us at (734) 213-6911.