December 20, 2015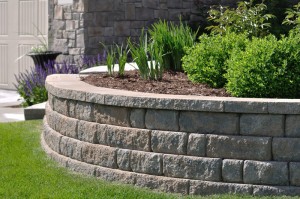 Although most of Michigan is pretty cold, the Ann Arbor MI area is actually quite moderate. In fact, while nearby spots vary, the city itself is firmly in plant hardiness zone 6a. Despite this, heavy winter snows and high winds can still wreak havoc on any plants in the yard. While retaining walls are usually thought of as just a way to even out sloping ground on the property, here are some problems winter weather can cause in this corner of Michigan that a retaining wall can help deal with.
*Soil Erosion
*Flooding
*Wind Damage
*Cold Spells
Preserving the Soil
Retaining walls are often constructed to prevent soil erosion that's normally associated with warm weather. This threat actually continues through the winter around here, though. With a relatively temperate climate, Ann Arbor MI can experience warm spells during the winter that can quickly melt the heavy snows that are common in the region. This can wash away topsoil along with plants. In addition, the end of the season brings another chance for nutrient-bearing topsoil to be lost. The level earth behind a retaining wall provides a stable environment for plants to flourish.
Putting Water Where It's Needed
Aside from washing dirt away from hillsides, melting snows can be funneled into low spots where they can't soak down into the ground fast enough. When the next blast of cold air hits, these areas of standing water freeze to ice that damages the trunks or stems of trees, shrubs, and perennials located in them. Along with eliminating slopes and gullies, retaining walls include drainage tiles that carry excess water out of the yard or channel it to those dry, sandy spots in the lawn where it can be beneficial.
Shelter from the Wind
Winter winds in Michigan are sometimes intense. This rarely presents itself as a direct threat to the plants unless they're species that hold most of their leaves through winter, but it can cause trouble in an indirect way. Snow is actually a pretty good insulator against even colder temperatures. A good blanket of snow can protect vulnerable plants that can't tolerate extreme cold that strikes from time to time. Depending on how it's designed, a retaining wall can keep the snow from blowing away and leaving the plants exposed all the way to the bare ground.
Keeping Warm
Another way these walls provide for plants in winter is by retaining warmth. While walls built of timber have some heat retention capability, it's especially true of masonry walls that they can absorb the rays of the low winter sun and radiate the warmth back out at night. With a well-designed south-facing wall that shelters against the north wind, a microclimate that's warmer than the surrounding area can be created. Plants typical of Michigan benefit from the protection of the wall, but this also opens up the possibility for growing perennials like camellia or agapanthus that are usually durable only to hardiness zone 7.
Get your yard looking its absolute best with custom landscaping solutions from Twin Oaks. Find us online at https://www.twinoakslandscape.biz/, visit us in Ann Arbor, MI at 4100 South Maple Road, or call us at (734) 213-6911.
"We recommend Twin Oaks to any entity looking for a full-service, talented, and responsive provider."
Therese Mahoney
Secretary/Treasurer of Doral Creek Condominium Association, Ann Arbor, Michigan