Can a Lawn Sprinkler System Improve Your Lawn's Health
The long summer months can leave much to be desired when it comes to your lawn. Many parts of the country suffer from long periods of time with very little to no rain. The lawn turns brown and eventually starts to die. It's unsightly, it's uncomfortable to walk across, and it's not good for the overall appeal of your home. Fortunately, there are ways around this. There are ways to take precaution against the relentless sun and warm weather. One way is by installing a lawn sprinkler system.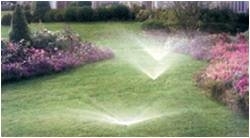 Ann Arbor : A Place Of Beauty
Ann Arbor MI is a place that is known for stretches of warm and dry weather. Ann Arbor MI is also known as a place where people take pride in the appearance of their lawns. They strive for that lush and soft green grass. In order to keep grass that way, a lawn sprinkler system is required. It keeps the lawn getting the proper water it needs in order to thrive. With a sprinkler system, a person doesn't have to worry about remembering to water their lawn with a watering can. This does the work for them. A sprinkler system can be set to water the yard at certain times.
The Benefits Of A Sprinkler System
Sprinkler takes care of plants and trees.
A sprinkler will save a user money.
A sprinkler stops someone from wasting water and money.
Aesthetically Pleasing
Having a lawn that is lush and green is much more than just aesthetically pleasing. A lot of people get good use on their lawns. They have picnics. Their children and pets run through the yard. Therefore, a person shouldn't have dry and prickly grass. This can end up hurting those who play on it.
Great For The Lawn, Great For The Environment
A sprinkler system is great for the environment! Many people out there aren't scientists or lawn experts. They aren't sure just how much water is needed to keep grass and plants alive and healthy. Therefore, people tend to over water their lawns. They waste precious resources by taking a garden hose and basically drenching their lawn. This is a particularly poor choice in areas that suffer from droughts. A lawn sprinkler knows how much water is needed to keep an area healthy.
Conclusion
Overall, these sprinkler systems are easy to install. They offer many benefits to keeping a lawn healthy. They take the worry out of a person having to remember to water their lawn. They take the guesswork away from a person having to calculate how much water is needed. They are able to be depended on. One can never depend on the rain. Rain is too unpredictable. That's why a lawn sprinkler is great to have on hand. A lawn sprinkler will instantly brighten a homes appearance. Everybody wants their home to have value. That value comes from more than just the structure of a home. It comes from having a nice-looking and well taken care of lawn. That's where these systems come in handy.
Get your yard looking its absolute best with custom landscaping solutions from Twin Oaks. Find us online at https://www.twinoakslandscape.biz/, visit us in Ann Arbor, MI at 4100 South Maple Road, or call us at (734) 213-6911.