August 12, 2017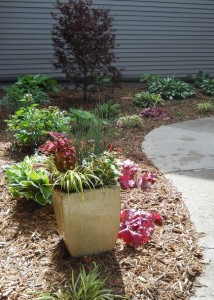 It takes imagination and creativity to make your home compound look aesthetically appealing. You possibly think that the only way to beautify your Ann Arbor, Michigan, home is to plant flowers and trees on the ground. Nowadays, homeowners who wish to see revolutionary landscaping ideas try even planters and baskets.
A hanging basket or planter has many advantages.
1. Increase the Resale Value of your Property
The appearance of your residential property from the outside can make people react to it positively. Having your home landscaped in a way different from that of the homes of your neighbors can increase your home's resale value. You will also be maximizing the limited compound space, especially if your house stands on a tiny area. The use of containers and baskets can greatly enhance the beauty of your compound. The containers act as a finishing touch in the landscaping project. Hanging flower and tree holders of different shapes, sizes, and colors can add style and elegance outside your residential building.
2. Attract more Customers to your Business
Your business premises also benefit from unique landscaping. When you beautify your business compound in a creative way, such as planting flowers in decorative containers in well-maintained yards, your business will attract more customers. The neat landscape and creative decorations will give the impression of a superior organization to your clients.
3. Protect your Ornamental Trees from Destruction
The old-fashioned ground level flowers and plants are more likely to suffer trampling by the family members especially the children during playtime. You can hang your flowers above the ground to keep them safe from the pets that play aggressively in the compound. Also, the wild animals that dig up your yard cannot reach the aerial plants.
4. Fewer Maintenance Costs
The aerial, ornamental trees in your Ann Arbor, Michigan, home will help to reduce the cost of maintaining your yard drastically. The weeds that grow in a hanging basket are fewer as compared to the unwanted growth you see among the ground level trees and flowers. Since the running ground water can never wash away the fertilizer or manure you put into a bucket, you will find yourself with fewer costs on your plants.
5. Sunning your Plants
Planters make it easier to expose your flowers to the sun. Whenever you see that some of your plants do get enough sunlight, you can relocate the containers and take the item to a different place. With the portable plant holders, you can decide when and how your plantation gets sunlight, shade, and water.
6. Renew your Landscape Patterns and Designs
It can be boring watching a similar home scenery over the years. To have a landscaping makeover, you can blend hanging baskets into the ground cover vegetation. Aerial ornamental plants are a game changer that will make you start seeing your compound through new eyes.
You can plant in the containers a variety of summer, spring, fall, and winter flowers to ensure blooming plants the year round. When you grow ornamental plants and flowers in baskets, you will not only give your compound a facelift but also have a stunningly beautiful home environment that you, the family, and visitors enjoy always.
"We recommend Twin Oaks to any entity looking for a full-service, talented, and responsive provider."
Therese Mahoney
Secretary/Treasurer of Doral Creek Condominium Association, Ann Arbor, Michigan