July 19, 2014
Balloon flower (Platycodon grandiflorus), also known as Chinese bellflower, has been racking up great reviews for more than 50 years, yet it's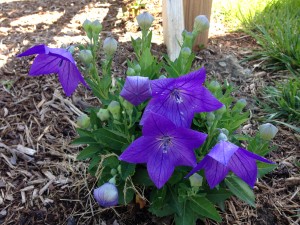 still not found in many gardens. Perhaps some good words here will increase its popularity.
They are as easy to grow as daylilies, and they're probably the most reliable blue bloomers you'll ever grow. As an added benefit, flowering peaks in mid- to late summer, after many other perennials have already come and gone.
The plant's common name makes perfect sense. The flower buds are hollow balloons, which gradually inflate and color up. Finally the buds burst open into star-shaped flowers 2- to 3-inches across. Varieties differ in flower color and plant size. More compact varieties, less than 18 inches tall, form graceful mounds with little or no staking. Blue 'Mariesii' and violet-blue 'Apoyama', or white 'Pumilum Album' and 'Apoyama Fairy Snow' fit into this intermediate category, and 'Sentimental Blue', a 6-inch-tall dwarf, is ideal for use in containers or small beds.
Light deadheading helps to extend the bloom time, and in some years the plants inexplicably produce a second flush of flowers in early fall. Balloon flowers make great neighbors to other plants because they don't spread and only need dividing about once a decade.
"We recommend Twin Oaks to any entity looking for a full-service, talented, and responsive provider."
Therese Mahoney
Secretary/Treasurer of Doral Creek Condominium Association, Ann Arbor, Michigan