Are You in Need of Lawn Sprinkler Maintenance Today?
Lawn sprinkler maintenance is a necessity for every home in Ann Arbor MI that has a built-in system. Lawn sprinklers that rise out of the ground to water your lawn are a very complicated system. They must be looked after at least once a year, and you cannot ignore them if you think that they are working perfectly. There is too much money at stake to avoid the maintenance of the system.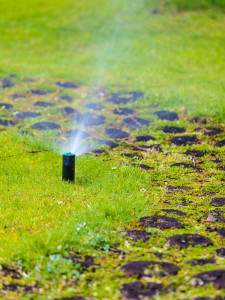 How Much Do You Use Them?
The sprinklers that you use at your home may get used every other day or so when you are trying to keep your lawn healthy. You assume that the sprinklers are working perfectly, but you do not know this for sure. You can only count on the sprinklers working if someone has taken a look at them during the course of the warm season. Families that use their sprinklers often need to have services done before, during and right after the watering season ends.
Common Problems
Lawn sprinkler maintenance is necessary for your home because so many small things can go wrong in your system. Clogs can appear in any of the water lines, the sprinklers can clog and they may be damaged if someone steps on them or kicks them accidentally. You must make sure that you look out for these small problems, and you need to contact someone for help if you ever notice strange occurrences in your system.
Automated Panels
Automated sprinkler systems are extremely convenient in Ann Arbor MI because you do not even need to leave the house to turn them on. This panel is a big help to your family, but there is no telling when the panel may malfunction. You must have a service technician check the panel at the same time they check the rest of the system. This checkup prevents electrical problems in the panel, and you will learn if you need to repair your panel or replace it.
Water Flow
You want your technician to check the connection to your home water system. The outdoor spigot that you use to power the sprinkler system needs to be checked often to ensure that it is functioning properly. The technician can repair small problems with the spigot, and they can replace rusty or old spigots that do not allow the water to flow properly.
Efficiency
The efficiency of the system depends entirely on the service appointments you schedule. You cannot have an efficient system if it is not serviced at all. The system will slowly begin to break down until you have nothing left but a sprinkler system that malfunctions when you turn it on. Small problems will turn into big problems, and you will not have any recourse because the system could be too far gone.
You must make sure that you are investing in the maintenance of your system as much as you possibly can. You must take care of your sprinklers so that they do not stop working one day when you least expect it.
Get your yard looking its absolute best with custom landscaping solutions from Twin Oaks. Find us online at https://www.twinoakslandscape.biz/, visit us in Ann Arbor, MI at 4100 South Maple Road, or call us at (734) 213-6911.