Are You in Need of a Professional Lawn Aeration Service?
Is there plenty of sunlight and water, but your lawn just not growing as well as you believe it should" Chances are, your lawn just isn't receiving the oxygen required to grow. You can't have a beautiful lawn without oxygen, which happens when there is no way for the air to reach the plant. In order to correct this issue and to improve the overall appearance of your home in Ann Arbor MI, you need to take advantage of a lawn aeration service. With this service, it is possible to interject holes into the lawn that does not damage the current lawn, but it does provide necessary ways to increase airflow in and around the plant. All of this should drastically improve the overall appearance of your lawn.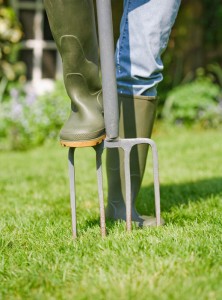 Before you go with any sort of lawn aeration service in Ann Arbor MI, it is always a good idea to first understand how it is going to improve your lawn and what all it is capable of doing for your property to begin with. Some of the benefits of a lawn aeration service include:
– Longer, thicker lawn
– Deeper green color
– More water absorbent
Longer and Thicker
By increasing the amount of oxygen a lawn is exposed to, it improves photosynthesis, which in turn allows the lawn to grow bigger and fuller. This way, while you might need to mow your lawn a bit more often because it is growing, it comes in thick and healthy. This also reduces the chance of your lawn developing any sort of weeds or crab grass due to the thicker roots of the lawn. With thicker roots, it can block out the roots of possible weeds, so you have to do less work on the lawn.
Deeper Green Color
As the lawn grows deeper and fuller, it develops a healthier shade of green. Now the actual color of green is going to depend on the kind of grass your lawn has, but a full, rich green color is always desirable when it comes to grass. Any yellowish or browning means the grass is not receiving all of the necessary nutrients it needs to grow strong. With the help of aeration services, this is no longer going to be a problem.
More Water Absorbent
With more oxygen flowing around the lawn, it is going to grow faster, which means the roots are going to grow thicker and longer as well. With longer roots, the lawn is able to absorb more water. This reduces the chance of flooding on the property after a heavy rain. It also means it can go longer without water. With longer roots, the lawn can stretch down further into the soil to collect the water. The roots also store more water as well. Of course, you can help develop longer roots after the aeration service by allowing the lawn to grow just a bit longer than normal. This helps with the growing process.
All of this is possible with the help of lawn aeration in your Ann Arbor home.
Get your yard looking its absolute best with custom landscaping solutions from Twin Oaks. Find us online at https://www.twinoakslandscape.biz/, visit us in Ann Arbor, MI at 4100 South Maple Road, or call us at (734) 213-6911.