July 15, 2014
It's Comin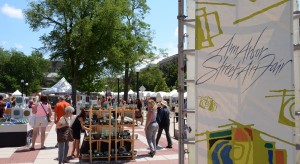 g!!!!   The Ann Arbor Art Fair is headed to town July 16 – 19th.   Here's a little history on it…

Established in 1960, the Ann Arbor Street Art Fair is the Original of the now four award-winning Ann Arbor Art Fairs:
The State Street Area Art Fair

Ann Arbor's South University Art Fair
Together, the fairs attract over 500,000 attendees from across the nation.  The Original Fair was named the Number One Art Fair in the country by AmericanStyle magazine readers survey (October 2004) and has made the Top Ten Fairs and Festivals list every year since.    
Our mission is to increase public knowledge and appreciation for contemporary fine arts and fine crafts by creating opportunities that connect artists, the Ann Arbor community and the general public to their mutual benefit, culminating in a top quality juried street art fair.
The Street Art Fair is set on North University Avenue and on the University of Michigan's Central Campus, amidst elegant architecture and beautifully landscaped pedestrian walkways, including the landmark Burton Carillon Tower.
(Source: http://www.artfair.org/)
"We recommend Twin Oaks to any entity looking for a full-service, talented, and responsive provider."
Therese Mahoney
Secretary/Treasurer of Doral Creek Condominium Association, Ann Arbor, Michigan