An Advance Draining System for Your Home
If you a piece of land and need it to be as fertile as possible in order to produce crops or to literally grow anything you can think of more efficiently, you may want to consider putting in an advanced draining system. These draining systems can be found in nearly every single field where crops are being produced, and you have likely seen them when you are driving down the highway. They can be built to any scale and are often also used in people's backyards, say if they want to grow grapes to make their own wine, or if they have a small produce production on their property.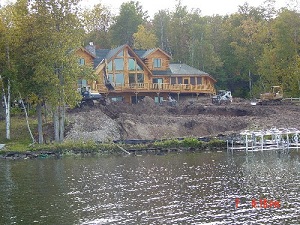 Why you Should Put in an Advanced Draining System
* Draining systems essentially control the amount of water that is being released and held in the soil, giving the plants that are growing in it the perfect amount, which helps them to grow very efficiently and return higher yields. There are several types of draining systems, some of which are above the ground, which are called surface drainage systems, and there are systems that are under the ground, called subsurface systems.
* They both collect and reroute water in order to give the plants the perfect amount and they have proven to produce much higher yields when used properly. This, however, means that you need a company that has put in a lot of these systems before, and can get you a high quality draining system.
Pricing Versus Payout
* If you are considering getting one of these systems put in, you are likely looking at the price with big eyes, due to the fact that it can be very expensive to put these in. It involves a crew of people working for up to weeks at a time and can be very costly, however it will not be near as much as this if you are putting in a small backyard system. Although it may seem like it is going to cost a lot of money to put in, the money that you are going to be making due to increased production will absolutely put that money back in your pocket and then continue to be a money maker.
* The increase in efficiency is a onetime investment that continually pays off, making it a very wise choice to make. Putting in one of these systems should be considered an investment and if you are not using a drainage system, you flat out are not getting the best yields that you can achieve with one.
Hiring the Best Company
* You likely have a great deal of options in selecting a company to put in a system on your property. In order to find a great company, you should definitely do some research and see if you can find reviews from other customers. This is a huge investment and you should absolutely hire a company that is reputable. You can find this information by doing a search for "Ann Arbor MI advanced draining system", for instance, if you reside in the Ann Arbor MI vicinity.
Get your yard looking its absolute best with custom landscaping solutions from Twin Oaks. Find us online at https://www.twinoakslandscape.biz/, visit us in Ann Arbor, MI at 4100 South Maple Road, or call us at (734) 213-6911.