A Sprinkler System Can Improve the Health of Your Yard Today
Your Ann Arbor MI home most likely has its own lawn that may or may not look too good at the moment. One of the major issues that many Ann Arbor MI residents have is knowing how or when to care for their lawn. Relying solely on natural rainwater and the occasional summer storm to water the lawn is simply not enough, especially with the overly hot temperatures that the summers can bring for those living in the area. Instead, a
sprinkler system
can be a fantastic option for busy homeowners who want a healthy and lush lawn without all of the work involved.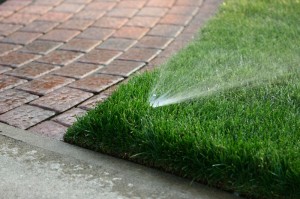 How Sprinkler Systems Work
The sprinkler system for your Ann Arbor MI home works by coming on at regular intervals and watering the lawn for you. You set how often you want the systems to come on and they can be put onto a timer to correlate with your needs. The system is installed by an expert irrigation specialist who will place the sprinklers at different spots around the lawn to provide the best watering possible. These systems are very inexpensive and can help to prevent the work involved with watering your own lawn. Below is a list of benefits that can come with choosing one of these systems for your own home.
The system helps to water the lawn regularly so that there are never any dry and dying spots.
The system prevents you from having to do the work yourself and using a hose.
The system is designed to provide you with a continuously lush lawn despite summer droughts.
The watering system can be installed by a professional and put onto a timer for easy use.
How the System Helps the Health of the Lawn
The system that you use for the lawn can easily benefit the overall health of the lawn as well. You know what happens to a lawn when it is not watered and there is not enough rainwater to sustain it. The lawn begins to dry out and even burn in certain patches. This can leave the lawn looking brown and have some balding spots due to a lack of water. What this can do is create an unhealthy appearance to the lawn that makes your home look bad because of its lack of curb appeal. If you choose to sell the home, your potential buyers will first see a dead lawn before even stepping foot in the home and this simply does not look good.
The irrigation system is designed to help keep the lawn healthy from the start. It provides routine watering to the lawn so that it never deals with droughts or excessively dry and hot days. The key is to have the irrigation system installed by an expert who will be able to do the installation work for you. They can then walk you through how to use the system so that you know how it will work.
Get your yard looking its absolute best with custom landscaping solutions from Twin Oaks. Find us online at https://www.twinoakslandscape.biz/, visit us in Ann Arbor, MI at 4100 South Maple Road, or call us at (734) 213-6911.