A Sprinkler System Can Fix the Look and Health of Your Yard
As a homeowner in Ann Arbor MI, you understandably want your home to have a beautiful look that you can be proud of. One key factor that can impact curb appeal as well as property value is the look of the yard. A healthy lawn is a one that is lush and green, but many homeowners struggle to achieve true lawn health through their own efforts. You may be wondering what steps you can take make your lawn healthier and more vibrant. The answer may be as simple as investing in a new sprinkler system. With a better understanding of how this investment can help your lawn, you may be ready to move forward with the installation.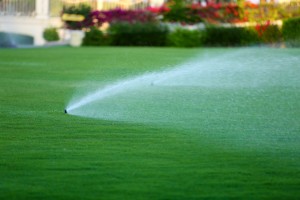 What Your Lawn Needs for True Health
You may spend a considerable amount of time and effort trying to make your grass healthy and vibrant, but you may be over-thinking it. Grass basically requires sunshine, water and suitable soil conditions to thrive. It does need to have the right combination of these to grow. Therefore, some fertilization may be required, and you may need to prune back thick tree branches to allow sunshine to filter onto the grass. In addition, you can invest in a home irrigation system to ensure that your lawn always receives the right amount of water regardless of your schedule or what the weather conditions are.
A Look at Modern Sprinkler Systems
There are a wide range of lawn irrigation systems available to choose from, and some are truly innovative in the features and benefits they offer. Some are rather basic, and they may have a simple timer that turns the water on and off at a certain time each day. Others, however, may allow you to control water in zones, and this means that the flower beds can get a different amount of water than the grass. They also have weather sensors, and they can adjust how long your lawn is watered and how much water the lawn receives based on the amount of sunlight and rainfall as well as based on the temperature and the season. This can take a considerable amount of guesswork out of the equation for you as a homeowner, and it means that your lawn can receive the right amount of water each day regardless of how busy you are.
Some homeowners view a sprinkler system as a frivolous expense, and they may think that they can water their lawn just as well on their own. Some homeowners do water their lawn perfectly on their own, but most struggle to get even water coverage in the yard as well as to find time in their day to water the lawn. When you have an irrigation system in Ann Arbor MI, the entire lawn can be watered at once. When you have single sprinkler and hose, it may take several hours to water the lawn depending on the size of the yard. As you can see, an irrigation system can provide you with true benefits that can promote the health and look of the yard.
Get your yard looking its absolute best with custom landscaping solutions from Twin Oaks. Find us online at https://www.twinoakslandscape.biz/, visit us in Ann Arbor, MI at 4100 South Maple Road, or call us at (734) 213-6911.