A Lawn Treatment Service to Improve Your Yard
Regardless of the time of year, lawn treatment can bring about positive changes to your yard. Whether you're meticulous about how green and trim your grass is or you rarely have the time to step outside and take care of your the yard yourself, a professional can help your lawn stay fresh and green for longer periods of time.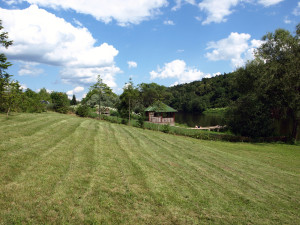 Professionals Know How to Create a Clean Look Every Time
The type of grass you have in your front yard will vary depending on which area you live in. The type that grows in Ann Arbor MI comes with different characteristics than grass that grows in California or Tennessee. To properly maintain your grass during the summer and spring months, a professional lawn treatment service should be hired who has knowledge about the various types of grass in your area.
Professionals know how to create a clean look every time because they have years of experience maintaining yards for numerous customers in Ann Arbor MI. They use the best tools available to get the job done right the first time, and they treat lawn care as a science and a type of landscaping art form.
Professionals Know What Chemicals to Use and What Types of Shrubs to Remove
One of the biggest landscaping issues currently facing homeowners is knowing what chemicals to use when weeds begin to appear in the grass itself. There are a variety of chemicals available in local landscaping and hardware stores, and using the wrong one could have devastating effects on your grass.
The same can be said for shrubs and trees surrounding your yard. Planting the wrong shrubs around your grass could have negative affects on your landscape because massive roots can grow around the shrubs and trees.
A lawn care professional will know which chemicals should be used to treat your grass and which shrubs should be removed from your yard immediately.
The Benefits of Ongoing Lawn Maintenance
Beyond treating your lawn when a problem presents itself, you must properly maintain your lawn on a year around basis.
Prevents Deadly Diseases – Regular lawn maintenance prevents deadly diseases that might have an adverse effect on your lawn because chemical treatments are applied every time a professional visits your property.
Lawn Aeration Is Great for Grass – Lawn care professionals use special tools that help aerate lawns. This process allows lawns to absorb more oxygen all year long.
Prevents Insect Infestation – One of the worst situations to face is when insects invade your yard and wreak havoc on your lawn. A simple insecticide treatment on a regular basis helps prevent this from happening in the future.
The adverse weather than affects Ann Arbor MI can be devastating for any yard. A professional lawn treatment service is the best way to help your lawn survive through the harsh winter months and the dry summer months without you having to lift a finger to perform the work yourself.
Get your yard looking its absolute best with custom landscaping solutions from Twin Oaks. Find us online at https://www.twinoakslandscape.biz/, visit us in Ann Arbor, MI at 4100 South Maple Road, or call us at (734) 213-6911.