Irrigation
Let Your Plants Thrive With Our Irrigation Programs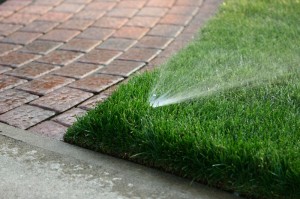 Every plant requires water to thrive. Of course, for some types of plants this need is less immediate, but chances are good that if you live in Michigan the flowers, grass and other plants you have in your yard and/or garden do need to be watered regularly to flourish or, to put it more bluntly, to continue to live. Tens of thousands of plants die every year from a lack of water. It's your responsibility to ensure that yours are not allowed to suffer a similar fate. However, if you don't have the time or the means to do that watering all on your own, or you're simply looking for a more convenient solution, Twin Oaks can help. With one of our carefully crafted irrigation programs at your disposal you'll never have to worry about watering your lawn again. For those with limited time it can make a great deal of difference for both your lawn and your home.
What Options and Services Are Available With Twin Oaks?
We offer a wide range of programs tailored to your specific application and the current season, including the temperature and recent weather patterns.
We can make seasonal adjustments as the year goes, reconfiguring your system for each given season for optimal performance. We'll adjust your sprinkler heads, set new watering times and check to make sure that your system is still working optimally.
We'll personally ensure that your irrigation program is working perfectly. We'll check every zone, every head, every valve and every pipe to guarantee that your system is working as well as it possibly can. We'll even look at your wiring to ensure that there are no errors originating there.
If we inspect your irrigation program and find that repairs are necessary, regardless of whether they're major or minor in nature, we'll perform them ourselves for a low hourly rate.
We'll make any adjustments necessary over time. Has the area you want your irrigation program to reach extended or shifted? Are there new landscape beds to attend to? If so, just let us know and we'll update your system to better meet your needs.
In October we'll come to winterize your system, turning it off completely and working to make sure that any outdoor piping is protected. Through our efforts we'll all but guarantee that your system will survive the winter intact and be just as effective when spring returns.
If you ever have any questions or concerns about your irrigation program simply contact Twin Oaks. We'll answer any queries you have in full.