Hardscapes
Enhance Your Property's Potential With a Custom Hardscape
When people hear the term "landscaping" they often think of softscapes, intricate and beautiful arrangements of plants and careful lawn maintenance. However, that's just scratching the surface of the many services we offer at Twin Oaks. Say you don't have time to properly maintain a yard yourself, or maybe you just need more room to entertain and relax. It's entirely possible that you may want to replace your lawn, or a good chunk of it anyway, with an attractive and functional hardscape. Composed not of grass and leaves but of items like stone and wood, hardscapes can transform your lawn, increasing its potential and raising the value of your property. If you want to install a hardscape in your yard or business property, simply call Twin Oaks. We have the know-how and the experience necessary to build you exactly what you require.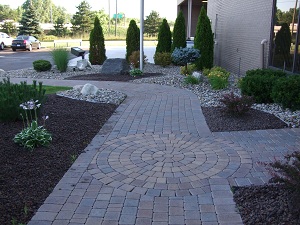 Why Consider a Hardscape?
It'll Create More Space: Building a walkway, patio or porch can make it much easier to access your home or business.  For a business, it really establishes a great first impression, and adds a custom and aesthetic look to your building.  For homes, the extra space can really help if you want to host large gatherings without the stress of having to squeeze everyone into your home. Plus, they're simply a great place to sit and admire the outdoors. A porch or patio can be an extremely relaxing addition to any home.
It'll Potentially Increase the Value of Your Home or Business: Installing a beautiful hardscape can make your property more attractive to a wider range of potential buyers. You just might be able to raise that sale price a bit as well. This isn't exactly a guarantee, but it's a good bet.
It'll Make Your Property More Inviting: Redoing your driveway or creating a walkway through your yard can make your home or business much easier to access and more inviting in general. With a proper hardscape on your side your guests will be able to travel up to and around with ease.
What Types of Hardscapes Are Available?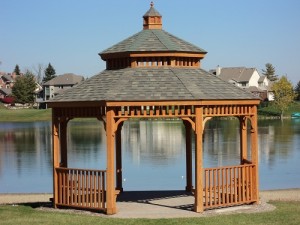 Walkways and garden paths, complete with optional benches
Driveways to make for easy entry and exit
Decks, verandas and patios for entertaining guests or relaxation
Outdoor kitchens and fireplaces, ideal for bonfires
Garden walls and privacy screenings to increase your home's security
Lighting to make your yard easier to navigate
Calming and beautiful water features
Gazebos for enjoyable picnics or get-together/events
Pool decks and more…