Outdoor Water Features
Make Your Yard Memorable With a Water Feature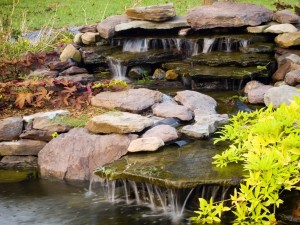 You've likely seen plenty of water features before, fountains and faux-waterfalls, goldfish ponds and wishing wells. What you might not realize is that you can have one of these remarkable items in your backyard. The advantages of doing so are myriad, but you already know one of the most important ones of all: these items are beautiful. They inspire an atmosphere of calm. They make any space in which they appear more dramatic and memorable. Whether you're trying to make an impression or just creating a relaxing oasis to sit by and forget your problems, water features are a fantastic solution, and one which is easily attainable. Simply call Twin Oaks today and we'll work together to find you the perfect water feature. Then, we'll send some of our highly experienced technicians over to install it. Before you know it you'll have a beautiful water feature at your disposal.
What Are the Benefits of a Water Feature?
Aesthetic Impact: Most basically, water features simply look great. They command attention and lend any area in which they are placed a good deal of additional impact.
Health Effects: What some people don't realize is that water features can, in fact, have a positive impact on your health. Water features are very relaxing and calming, and the change in temperament they inspire can actually lower one's blood pressure and benefit one's mental health. Spend some time next to a water feature and you might walk away a healthier and more capable person. Water features will help shut out annoying sounds and allow you to focus, and we all know how beneficial having a little time to yourself can be.
A Social Centerpiece: If you have a water feature in your yard many people will be naturally drawn to it. This is especially true of a pond or any water feature containing fish, frogs or other aquatic lifeforms. Indeed, if you want a pet but you can't afford to deal with a lot of hassle a water feature can be a great way to do so. Simply place some fish inside and allow them to live their lives, making sure their water stays hospitable. Your water feature may also attract birds, giving animal lovers even more of an impetus to purchase one. In short, a water feature will give your yard a centerpiece, a place for people to gather. Others will appreciate the relaxing and therapeutic nature of the water feature just as much as you will.
Save Money and Conserve Water: Yes, it will take a good deal of water to fill your water feature, but after it's in place you'll quickly find that you'll likely save a good deal of water in the end. If you have a large lawn watering it regularly can use up a great deal of that precious resource. A water feature can actually lower your monthly bills and help save water for others who might need it more urgently.