Hardwood Mulch Cabin Fever 2020 Sale!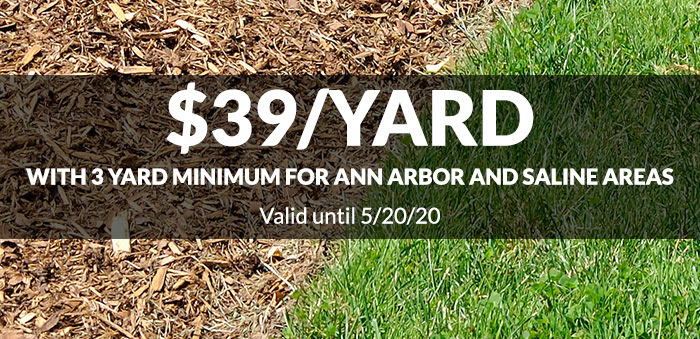 $39/yard Delivery Only (3-yard minimum)
(Residential customers only)
Twin Oaks Landscape is offering FREE delivery on orders of mulch for your property and landscape.
As more families are staying at home to protect themselves and others from the coronavirus (COVID-19), it's the perfect opportunity to complete small projects around your property.
Most spring weed seeds are beginning to germinate or will be germinating very soon.
Spreading mulch around your property has many benefits:
Mulch is a natural way to prevent weeds from growing.
Mulch will stabilize the soil temperature, and limit fluctuations (high or low).
Mulch will assist with moisture retention.
It is easier to install mulch prior to or as the perennials begin to emerge, rather than once they fully extended.
Twin Oaks is offering free delivery with a 3-yard minimum to the Ann Arbor & Saline areas. Our hardwood mulch is loaded by machines into our delivery trucks, so no employees come in contact with your mulch.
We can drop your delivery right onto your driveway to minimize contact. We can do several deliveries per day, so contact us today to get your mulch delivery scheduled.
How To Measure
For areas that contain an existing layer of mulch:
1 yard covers 162 sq ft(16×10 approximate area) providing a 2" thickness (recommended).
For bare dirt areas, recommend doubling the area for a 4" thickness.
>>>Fill out the form to the right and a member of the Twin Oaks team will contact you for quick and easy payment over the phone and schedule your mulch delivery.