June 10, 2015
Hardscapes add dimension and beauty to your outdoor space and require consideration in their design, construction and maintenance. Ideally, each hardscape item (i.e., pavements, decks, patios, retaining walls, fences, benches, gazebos, fountains, birdbaths, trellises) should be made from materials that are sustainable.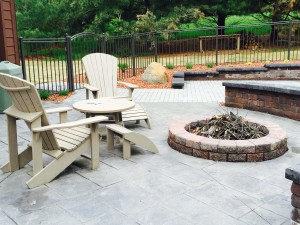 Choosing Sustainable Materials For Your Hardscapes
There are several principles that define sustainable materials. The following list provides an easy guide to help you make your decision:
1) Look for sustainable materials that are located in Ann Arbor MI, are reclaimed or quarried.
2) Research the product's impact on the environment. Choosing permeable materials such as gravel, stepping stones or interlocking pavers, reduces the occurrence of runoff by allowing more stormwater to soak into the ground. Also, make sure your materials don't contain toxic chemicals like lead or arsenic that could leach into the ground.
3) Educate yourself about the frequency of maintenance using a certain material. Due to its composition, wood needs to be resealed or repainted every few years to repel termites, wood boring beetles,etc., and withstand the outside elements.
Concrete
Concrete is a great choice if you want to install a patio, because it requires no maintenance, except for the application of a sealer and a powerwashing every three to five years. Concrete blocks as opposed to landscaping timbers can be used to build retaining walls, since they only need powerwashing every few years and provide a more long-lasting, ornamental barrier. You can also choose paver stones to create a walkway which requires that the project be done in stages. The homeowner only needs to remove the damaged pavers from the base of a section and replace them with new ones. All three jobs are best done by professionals to ensure they are done properly.
Cedar
Cedar is a great composite material to build decks and fences since it has a lifespan of 10 to 15 years with proper care. Another great material to build decks and fences is a tropical wood called Ipe, widely known for its rot and insect resistance and has a longevity of up to 50 years. Plastic/wood pressed composites (WPCs) are also great choices for constructing decks and fences since they are very durable and only require powerwashing every few years and an application of a sealant to preserve the material's color if necessary.
The right landscape design can maximize your outdoor living space and almost always increase your property's value. So, decorating it with sustaina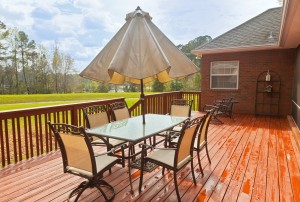 ble composite materials makes sense when considering how much time you'll spend outdoors. Although more costly, these materials are growing in popularity all across the country. Whether you just want to find some place to relax or use as a space to host BBQ's and garden parties, consider how all of your structures will tie-in with one another. Additionally, consider hiring a professional to do complex projects. If you want ornamental, low maintenance structures for your outdoor space, consider using the above sustainable materials by contacting a comprehensive landscaping company in Ann Arbor MI.
Get your yard looking its absolute best with custom landscaping solutions from Twin Oaks. Find us online at https://www.twinoakslandscape.biz/, visit us in Ann Arbor, MI at 4100 South Maple Road, or call us at (734) 213-6911.
"We recommend Twin Oaks to any entity looking for a full-service, talented, and responsive provider."
Therese Mahoney
Secretary/Treasurer of Doral Creek Condominium Association, Ann Arbor, Michigan