June 27, 2015
If you are looking to not only improve the natural beauty of your yard, but also expand your living space and home value, one simple way to ccomplish this is to incorporate a patio or deck into your landscaping project. These additions are commonly known as hardscapes among the outdoor landscaping industry. Selecting the right materials for your patio, decking, or sidewalk project will enhance the beauty of your home and add functionality to your outdoor living space. By having a patio or deck, such? can provide you, your family, and guests with abundant opportunities for entertainment, both personal and social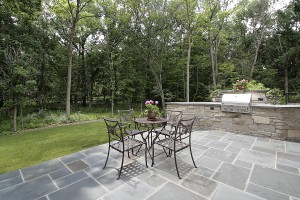 When including a deck or patio into the plans for your landscape project, here are a few things to consider.
Pavers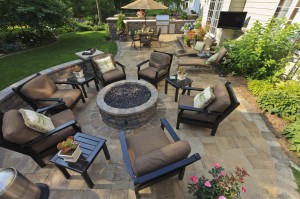 Paver patios are generally comprised of bricks or stones. Various designs or styles can have higher initial costs up front, but when paver patios are installed correctly, they will prove to be low maintenance and will save you money over time. Paver patios are durable and beautiful, and provide you with wide range of design and structural options to choose from. These types of patios are relatively straightforward to install, and any needed replacement pieces can be purchased rather inexpensively
Composite Decking Materials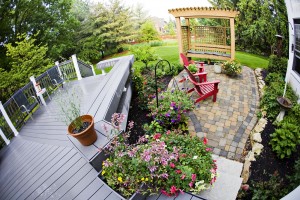 Decks can be very popular additions to a home, and are typically made of wood. However, 100% wood decks require regular maintenance, t
ime, and money to stay looking beautiful and remaining safe. A great alterative to all-wood decks is to select a design made of PVC, plastic, or recycled wood/plastic combinati ns. These composite decking materials require little maintenance, which means you'll have more time to enjoy relaxing on your deck instead of working on it. They do typically cost more up frontthan a traditional 100% wood deck would, but, these decks do prove to be a much better long term solution to your outdoor living needs. For Michigan residents, due to the extreme variances in weather and seasons, composite decking is a favored choice.
Other Hardscape Features
Retaining walls are a beautiful addition to many landscaping projects. They can line gardens or create flowerbeds, create a border along a paver patio,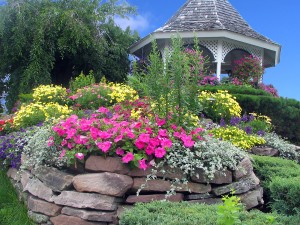 and help retain soils to establish dimension within a landscape. No matter how you choose to incorporate retaining walls into your design, you will increase the beauty and functionality of your outdoor space. If retaining walls are constructed properly (utilizing landscape fabric and the proper stone underneath) on a level surface, they can remain sturdy and upright for 30-50 years or more. Retaining walls truly are an investment that can last for the length of time you own your own home.
Extra features like fire pits, outdoor fireplaces, outdoor grills, and even pizza ovens, can increase the entertainment value and functionality of your deck or p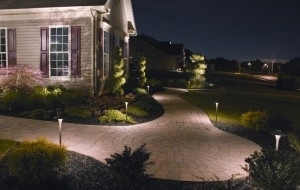 atio. Incorporate the best styles and designs to fit your personal wants and needs, weather requirements, and space limitations.
Outdoor lighting is the perfect way to increase the beauty and safety of your outdoor patio, deck, or landscape. The extra lighting outside allows you to continually enjoy your outdoor living space, even after the sun goes down. Be sure that a trained electrician is on site for the installation of your outdoor lighting solutions to ensure that all wiring is done properly and safely.
Making the decision about what to include in your outdoor hardscape designs, ask your contractor if you can see a 3D visual image of the space. These special computer programs are designed to provide you an advanced look at what your space will realistically and accurately look like in the end. Then, you'll be able to make changes and discuss your options before you even break ground. A 3D look at your future space can eliminate any potential disappointment you might feel if your finished project doesn't meet the expectations you had in your mind.
"We recommend Twin Oaks to any entity looking for a full-service, talented, and responsive provider."
Therese Mahoney
Secretary/Treasurer of Doral Creek Condominium Association, Ann Arbor, Michigan