December 12, 2014
With a change in the seasons and a number of environmental elements that are present outdoors in Ann Arbor Michigan, it's easy for a home's patio to take a beating and become damaged within a few weeks. Decks can be expensive to install, but can quickly deteriorate without the right protection in place. To prevent your deck from being damaged with the rain and snow, there are a few steps to take to help it stay in great condition until spring arrives.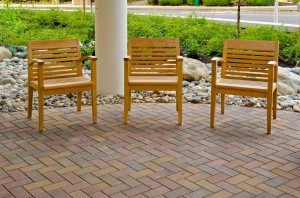 Use a Waterproofing Sealer
One of the easiest ways for a deck to lose its color is when it has contact with water. Protect it by applying a sealant to prevent rotting that can occur. The sealant will last one to two years and will work to preserve the quality of the wood.
Horizontal decks are often more likely to retain water, snow, or ice and can cause the structure to remain damp for an extended period of time. A water repellent pigmented finish can also be applied to prevent splitting or warping of the wood when moisture is present. This will last for three years until it needs to be reapplied.
Sweep Wet Leaves
Wet leaves that accumulate on the deck may seem harmless, but can easily cause damage to the structure with the water that sets into the wood. Sweep the deck throughout the week and remove debris that has accumulated in certain gaps.
Clean the Deck Before Sealing It
Although you may need to apply a sealant to the patio once a year if you own a home in Ann Arbor Michigan, it's important to clean it before the new product is applied to preserve the structure.
To clean the deck:
-Use a pressure washer to remove grime in small crevices
-Allow the deck to dry for two days
-Remove debris that is lodged in cracks or gaps
-Apply the sealant to a dry surface and allow it to sit for the day
Use a Tarp
Covering your deck with a tarp will help to protect it from moisture that comes with snow or rain, which will cause the wood to warp. The tarp will also prevent ice from forming on the wood, which can cause cracks to deepen.
Remove the Snow
One of the most effective ways to prevent weather damage is to simply remove the snow once it begins to build. Shovel in the same direction of the wood boards to prevent harming the finish on the wood's surface. It's also important to avoid using salt to prevent discoloration that can develop.
With the right tools and steps established in each season, it's possible to preserve your deck and keep it in great condition with the right maintenance. Homeowners who care for their decks can have peace of mind knowing that the patio is protected and can withstand harsh weather for a structure that will maintain its quality for several years to come.
"We recommend Twin Oaks to any entity looking for a full-service, talented, and responsive provider."
Therese Mahoney
Secretary/Treasurer of Doral Creek Condominium Association, Ann Arbor, Michigan