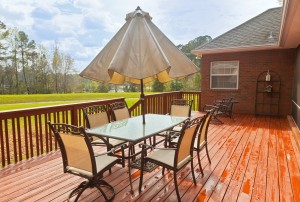 Your deck has seen its better days. Boards are bowed and splinters make going barefoot a hazard. Some boards have rotted through. The place where family used to gather and chat while the grill sizzled is now an eye-sore. It is dangerous and does not function anymore. It is time to replace the deck, but do you use wood again? Composite deck boards seem like a better option, but are they?Let's consider some facts: In the blistering summer sun, a composite deck will not fade. This is great when you consider that the deck will be outside, year after year, baking in direct sunlight. A wooden deck will fade and split in the same sun. Composite decking is made to be UV resistant. The colors will not fade. Your deck will be as pretty in year 10 as it was when it was new.
Being able to withstand summer heat, hail and thunderstorms, are more reasons to consider purchasing composite decking instead of traditional wood options. Since composite deck boards are mainly plastic, they are virtually weatherproof. Summer can rage on, bringing her afternoon thunderstorms and golf-ball sized hail. Your deck can handle it.
Today's composite boards have come a long way from the first ones that were brittle and ugly. Now, a deck can have a variety of color and pattern options. The composite looks so much like wood that it is very hard to tell the difference. The materials used to make the composite are designed to last for generations.
Composite is easier to maintain than wood. No more staining and sealing every two years. The composite deck only needs to be washed occasionally to keep away dirt and mold. Specialty spacers ensure that the deck has proper spacing between boards for contraction and expansion. This way, boards will not crack or peel when the weather goes from hot to cold. The spacers also allow air flow so that the composite does not gather water, which could rot the wooden foundation of the deck.
With guarantees of 10, 15, and even 20 years, composite decks are worth the extra money it will cost to build them initially. The lower maintenance will balance out that cost in just a few seasons. Add to that the time that you will save not having to strip, seal or repaint your deck, and composite seems to be the obvious winner.
Whether you live in Ann Arbor MI or Austin TX, decks made from composite materials will hold up better and last longer than traditional wooden decks. They will get hotter than wood, so beware when choosing your colors. A dark deck will get hotter than the lighter colored options. Maybe this will not be such a factor in cooler climates like Ann Arbor MI, but it will definitely be something to consider if you live in a hot state like Texas.
Before you begin tearing out and replacing rotted wood, consider composite materials. Your deck (and your back) will thank you.