November 17, 2015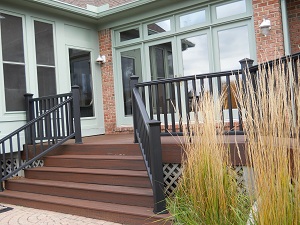 Choosing the best material for your new deck is an important decision. You must weigh cost against longevity and maintenance. A composite material deck carries a larger initial cash outlay, but the benefits surely outweigh this cost. In the Ann Arbor MI area harsh weather can play havoc with outdoor structures. Using a longer lasting material protects your investment.
Improvements
Another consideration is the advancements in composites in recent years. The material and manufacturing process keep getting better. Scratch resistant and anti-fading additives have made a good product even better. Wood grain patterns are now added for a more realistic look. And new methods of installation have no nails or screws visible on the deck surface.
Five Benefits
There are five benefits that stand out from all the rest when building a composite deck for your home. Consider the following:
1. Virtually maintenance free. Composite decking does not require painting, staining or sealing. A quick occasional cleaning with a broom or hose will take care of most cleaning jobs. Removing any debris quickly will ensure nothing stains the surface requiring a more thorough scrubbing.
2. Longer life. Unlike wood, composite materials do not rot and are pest resistant. Made from recycled plastic and scrap wood products (sawdust, chips, etc) and then mixed with pigment and preservatives, the average lifespan of a deck is 20 – 30 years. The boards will not warp or twist. There is no shrinking and separations because of drying wood.
3. Color retention. Nothing fades a painted or stained deck faster than exposure to the elements. New manufacturing processes now enclose the composite material in a shell which protects against fading. This new process allows for a 25 year anti-fade guarantee.
4. Safety. Wood decks can become slippery when wet. Traffic and weathering can create splinters. A non-slip surface makes the composite material perfect for around a pool or hot tub. Non-splintering is a consideration for parents with children. Coordinating safety accessories can also be added where needed. These include hand rails, gates, and post caps.
The accessories are made of the same material, therefore the look is consistent and the benefits are the same.
5. Non-toxic –Traditional pressure treated wood has been submerged in a chemical and pressure applied to force the chemical throughout the board. The chemical will deter pests and bacteria, but it is also harmful to humans. Warnings accompany pressure-treated wood stating it should not be handled without gloves. Sawdust should not be inhaled. Small children should have their contact limited with the wood. Sound like a family-friendly deck? Absolutely not. That is where composite material beats pressure treated wood hands down. No chemicals. No warnings. No potential harm to children. This eco-friendly product is manufactured from recycled material which is not harmful to the environment or those living with it.
If you are in the Ann Arbor MI area and are thinking about a composite deck, we can help with the design and installation. We will use the most up to date materials to give your home a long-lasting deck.
"We recommend Twin Oaks to any entity looking for a full-service, talented, and responsive provider."
Therese Mahoney
Secretary/Treasurer of Doral Creek Condominium Association, Ann Arbor, Michigan