February 2, 2015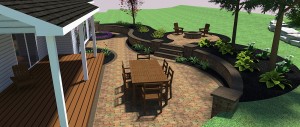 Faced with the current housing market, many homeowners have made the decision to keep their existing home and complete once desired renovations and improvements rather than attempting to move.   These desired tasks include taking on a landscape project that extends their outdoor living space.
Consider A Patio
Outdoor decks and brick paver patios are being transformed into functional and comfortable living spaces that reflect and compliment the home's indoor scheme's colors and textures, offering an extension…another space to enjoy with low maintenance side effects. What was once a cement patio with a grill and a picnic table, these spaces are now being transformed into living rooms and dining rooms with outdoor kitchens, surround music sound systems, lighting, televisions and comfortable patio furniture. In addition, decks and paver patios add living space for less than the cost of a room addition, and the products are without worry for extensive annual maintenance.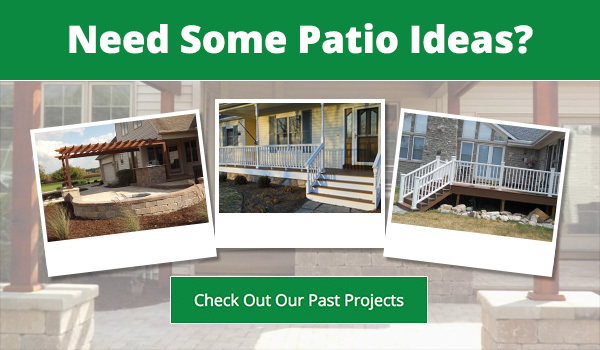 We met with a client in Saline just last week, they are looking to create a multi-functional space for their outdoor area to enjoy their evening meals, as well as be able to host events and parties during the warm season. To complement their home's design and personal style, they chose to go with a combination of a low-maintenance composite decking product for the area off their kitchen that flows down to a brick paver patio off their walkout basement. They were very pleased with the low maintenance of both of these major products, as while they have the time to enjoy them… constantly maintaining them was not on their agenda.
Outdoor Patio & Kitchen
Our designer created a 3D image of a simple outdoor kitchen with a grill, refrigerator, storage drawers and cupboards. The colors and layout feel like an extension of their existing kitchen area. A dining table with cushioned chairs that seat comfortably their family of six will make dinner time feel like a vacation resort. The deck lighting containing flush mount fixtures, dimming capability, and remote controls, allow for the entire new living quarters at dusk and into the night. The lighted staircase flowing to the second level of living space includes a patio embedded with flushed lighting, couches, chairs and end tables, as well as an open firepit with storage for logs. In addition, the ceiling of the patio area deters rain, allowing for use of the patio even during wet weather.
From simple designs to upscale outdoor living accessories, the trend of mimicking the look and feel of interior spaces to the great outdoors is achievable thanks to so many great landscape innovations. For us in Michigan, that means maximizing the months we do have to enjoy the outdoors at its full potential. Contact Twin Oaks Landscape today to find out how we can work together to create the outdoor entertaining space and brick paver patio you've always wanted.
"We recommend Twin Oaks to any entity looking for a full-service, talented, and responsive provider."
Therese Mahoney
Secretary/Treasurer of Doral Creek Condominium Association, Ann Arbor, Michigan