July 8, 2015
Choosing between a deck and a porch can be a debilitating decision; however, there are plenty of criteria that you can base your decision on. Here are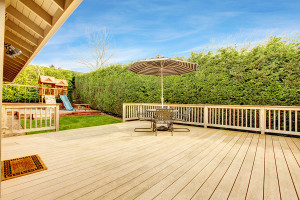 some of the ways that you can determine the best fit for your home.
– Is your home low to the ground or not?
This can make the decision for you in some instances. One of the best parts about building in Ann Arbor MI is that most of the residential land is flat, so you do have a legitimate choice. For the most part, if your terrain is rocky enough to put your house on a hill above your land, you will have to go with a deck regardless.
If your house is low to the ground, then you have a choice that you can make according to the look that you want to achieve. Keep in mind that you can also use a porch to even out certain slight terrain differences; however, it requires more hardware and materials and may cost a bit more than your other options.
– Should your outside area be a part of your house or a part of your yard?
In general, your Ann Arbor MI deck is going to be a part of your house. It will continue the aesthetic as well as the materials of the indoor part of your home. The floor will likely be elevated so that there will be no break between your door and your outside area.
If you choose the porch, then the materials that your outside area will be composed of will be more natural. For instance, most porches are made of crushed stone, a surface of a slightly different kind of stone and a layer of bedding sand. This is one of the reasons that structures like these are known as hardscapes.
Depending on the materials that you use for your outside area, you will also pick different furniture for that area. This will only add to the dichotomy, as the furniture will match the materials that you pick for the base of the area.
– There are legal considerations as well.
A raised area is considered an extension of a house that requires a proper permit in order to create. They will be inspected in order to make sure that they are compliant with municipal standards. In contrast, if you are building an area that is not raised, then you are exempt from all of these rules. There are no extra taxes or inspections that you have to go through.
This becomes especially important if your house is located near any sort of wetland. Believe it or not, whether your outside area is raised are not can affect the water flow around your house as well as rainwater runoff.
The above considerations are some of the most prevalent when you are deciding what kind of area that you are building outside of your home. Make sure that you are compliant with all government standards as well as your own standards when you begin to build.
Keep your lawn looking beautiful with maintenance services from Twin Oaks Landscape. Find us online at https://www.twinoakslandscape.biz/, visit us in Ann Arbor, MI at 4100 South Maple Road, or call us at (734) 213-6911.
"We recommend Twin Oaks to any entity looking for a full-service, talented, and responsive provider."
Therese Mahoney
Secretary/Treasurer of Doral Creek Condominium Association, Ann Arbor, Michigan