November 15, 2015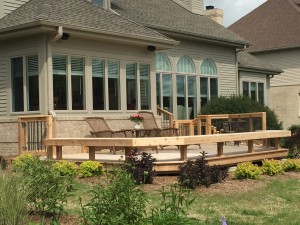 Adding an outdoor living space is one of the best things you can do to add enjoyment to your Ann Arbor MI home. Some homeowners have difficulty deciding what kind of features to have installed in their landscape project. Here are some tips to help you decide.
Deck Benefits
Decks are usually made of wood or composite materials that look like wood. They are built up off the ground, and this makes them a little warmer than on-ground outdoor spaces in the cool seasons. High features like this can be especially desirable if your yard overlooks a scenic view of a river, trees or other natural beauty.
They are often preferred for home's in wooded areas away from the city not just for the view but because they add a bit more security. Your outdoor party is less likely to be interrupted by a roving bear when you are up off of the ground and behind the railing. A latching gate at the bottom of the staircase provides even more protection from wilderness wanderers.
This outdoor home feature goes with many decor styles, but it can be especially appealing to homeowners who are aiming for a rustic retreat-like ambiance.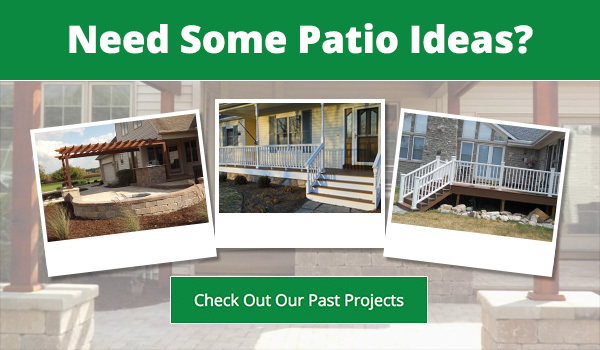 Deck Cons
Wood that is exposed to the elements requires regular maintenance. The planks need to be stained and weatherproofed to prevent rot. Using composite materials instead of solid wood prevents some of these problems, however. Another potential downside is these aren't allowed in all neighborhoods. It is best to check with your HOA before planning any high profile additions. If poorly constructed, they are a safety hazard. Most collapses occur when too many people are on a deck that was poorly constructed or poorly maintained. If you install these, make sure you understand the weight limit.
Patio Benefits
Patios are usually made from brick, stone or concrete. When properly installed, natural stone very durable can handle nearly anything you or Mother Nature does to them.
Because they are low profile, they are widely accepted by homeowner's associations. They are also easily expanded and you don't have to worry about a weight limit, loose railings or falls from heights.
Cons
Concrete and brick are more vulnerable to cracks due to moisture entering into fissures and freezing during a harsh Ann Arbor MI winter. However, using natural stone or concrete pavers instead of a single slab reduces this problem, and bricks are easily replaced.
Veranda Benefits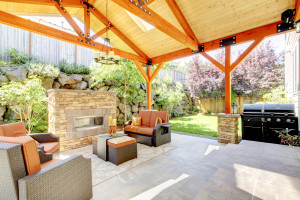 One of the biggest benefits of a veranda is that it is covered. This feature offers some protection for the flooring and gives you some degree of shelter from the elements. It also makes it easy to add a screen to the structure to keep insects and other creatures away.
Another less widely discussed benefit is that these provide extra shade to a section of the home, and this can keep your home cooler in summer.
Cons
Some homeowners associations don't allow these additions. Maintenance for the floors is minimal because of the added protection of the roof, but the roof itself needs to be maintained. Construction of this outdoor feature is a big project that can take some time.
When you have made your choice, eliminate installation problems by hiring only licensed, experienced installers. This ensures your outdoor living space will serve you safely and bring enjoyment for many years.
Get your yard looking its absolute best with custom landscaping solutions from Twin Oaks. Find us online at https://www.twinoakslandscape.biz/, visit us in Ann Arbor, MI at 4100 South Maple Road, or call us at (734) 213-6911.
"We recommend Twin Oaks to any entity looking for a full-service, talented, and responsive provider."
Therese Mahoney
Secretary/Treasurer of Doral Creek Condominium Association, Ann Arbor, Michigan